Watch Henry Golding And The Snake Eyes Team Train For Fight Scenes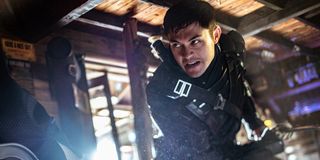 The Snake Eyes: G.I. Joe Origins Digital, 4K Ultra HD, and Blu-ray releases are packed with explosive special features that delve into the world of Snake Eyes and the mysterious Arashikage clan. Among the special features is a behind-the-scenes look at sword fight training with the Snake Eyes cast, Fight Coordinator Kenji Tanigaki, and Stunt Coordinator Kimani Ray Smith.
Fans were blown away by the fight choreography and action sequences in Snake Eyes: G.I. Joe Origins, and now, with the digital release of the film, fans will get a glimpse behind the scenes. Fight Coordinator Kenji Tanigaki created a unique style for each of the characters based on the amount of training they had in the story. Check it out in the clip below.
In the clip, Keni Tanigaki mentions that since Tommy (played by Andrew Koji) trained at Arashikage for many years, he must be very skilled in his technique. In contrast, Snake Eyes (played by Henry Golding) does not have to be as skilled because he's coming from the street. This distinction may go unnoticed to the untrained eye, but to those who know the technique it is obvious, and also comes to the forefront once you've been made aware of it.
Leading man Henry Golding explains in the clip how one's body changes through fighting and martial arts. Co-star Andrew Koji elaborates on the experience, discussing what it was like to learn the psychology of the moves. These actors give truly phenomenal performances in the film, and it's amazing to see the amount of work that went into each scene.
Snake Eyes: G.I. Joe Origins arrives early for Premium Digital purchase and on Premium Video-On-Demand (PVOD) on August 17, 2021 from Paramount Home Entertainment. The film will subsequently be available on 4K Ultra HD, Blu-ray, and DVD on October 19. Fans can also purchase a 4K Ultra HD Combo in a collectible SteelBook (pictured below; SteelBook Combo includes an Ultra HD Disc with Dolby Vision and Dolby Atmos and a Blu-ray Disc with Dolby Atmos, as well as access to a Digital copy) and complete their G.I. JOE movie collection with a 3-Movie gift set that includes G.I. Joe: The Rise of Cobra, G.I. Joe: Retaliation, and Snake Eyes: G.I. Joe Origins on 4K Ultra HD, Blu-ray or Digital.
The 4K Ultra HD and Blu-ray Discs of Snake Eyes: G.I. Joe Origins also boast a Dolby Atmos soundtrack remixed specifically for the home to place and move audio anywhere in the room, including overhead. Both 4K Ultra HD offerings include the all-new short film Morning Light: A Weapon with Stories to Tell, deleted scenes not seen in theaters, a featurette on what it took to bring the origin story of the iconic hero Snake Eyes to life, and more!
Can't get enough of Snake Eyes: G.I. Joe Origins? Watch it early on Premium Digital & On-Demand August 17, 2021 and on 4K Ultra UD, Blu-ray, & DVD October 19. We also rounded up the best movies of Snake Eyes actor and stuntman Iko Uwais's career for fans to check out.
Obsessed with Hamilton and most things Disney. Gets too attached to TV show characters. Loves a good thriller, but will only tolerate so much blood.
Your Daily Blend of Entertainment News
Thank you for signing up to CinemaBlend. You will receive a verification email shortly.
There was a problem. Please refresh the page and try again.