Snake Eyes' Iko Uwais: The Best Movies To Watch If You Want More Of The Actor And Stuntman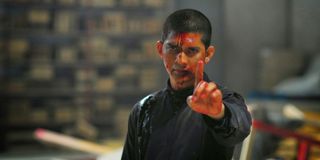 CinemaBlend participates in affiliate programs with various companies. We may earn a commission when you click on or make purchases via links.
The Snake Eyes cast is full of amazing talent from top to bottom, but one of most prolific names of that group, Iko Uwais, has a pedigree that makes him the most badass of the bunch. And after seeing his portrayal of Clan Arashikage leader Hard Master, there's a good chance you want to see more of what the Indonesian actor, stuntman, and martial artist has to offer. Well, lucky for you there are quite a few movies that have allowed Uwais to not only show off his impressive fighting skills but also his emotional range and ability to carry great action movies like The Raid and its epic sequel, The Raid 2.
Below is a quick list of the best movies of Iko Uwais' career as well as how to watch them on various streaming services or through online rentals and purchases. There's a lot to unpack here, including some surprising choices, so let's breakdown all the action.
The Raid (2012)
Gareth Evans' 2012 game-changer of an action movie The Raid follows a highly trained group of special forces officers as they attempt to take down a ruthless drug lord who's taken up residence in a heavily fortified tower in the slums of Jakarta, Indonesia. At the center of this story is Rama (Iko Uwais), a rookie officer who has a personal connection to members of the crime syndicate, which adds an emotional spin to the straight-forward martial arts masterpiece.
This was the first time a lot of people (myself included) saw Iko Uwais in action, and what an introduction it was. There are a handful of fight scenes in this movie that could be considered the best of the 21st Century if The Raid 2 didn't exist. But before touching on the 2014 sequel, just know that The Raid not only meets the hype, it exceeds it, mostly thanks to Uwais.
Rent/Buy The Raid on Amazon. (opens in new tab)
The Raid 2 (2014)
Unlike its predecessor, which took place over the course of a single day, The Raid 2 is a sprawling epic that sees Rama (Iko Uwais) go undercover in the Jakarta underworld to get to the bottom of a criminal conspiracy. Set in the immediate aftermath of its predecessor, Gareth Evans' 2014 sequel sees Rama cross paths with some of the most iconic henchmen — Hammer Girl (Julie Estelle), Baseball Bat Man (Very Tri Yulisman), and The Assassin (Cecep Arif Rahman) — before he can take out the enterprise once and for all.
With an expansive story with multiple subplots, chase sequences, and heart-stopping action, The Raid 2 also features some of the best fights you'll see, especially the iconic kitchen fight between Rama and The Assassin near the film's conclusion.
Stream The Raid 2 on Starz. (opens in new tab)
Rent/Buy The Raid 2 on Amazon. (opens in new tab)
Merantau (2009)
Iko Uwais and Gareth Evans first worked together on the 2009 martial arts drama Merantau, in which Uwais take on the role of Yuda, an expert in silat, who leaves his small village to seek experience and success by teaching the martial art in Jakarta. That plan, however, quickly goes out the window when Yuda finds himself in the middle of the city's criminal underbelly and a large-scale human trafficking operation.
Although not as action-packed as future collaborations between Gareth Evans and Iko Uwais, Merantau has plenty of intense fight scenes, especially those involving another collaborator of Evans', Yayan Ruhian.
Stream Merantau on Amazon. (opens in new tab)
Rent/Buy Marantau on Amazon. (opens in new tab)
The Night Comes For Us (2018)
Timo Tjahjanto's The Night Comes for Us follows Ito (Mortal Kombat's Joe Taslim), a member of an elite squad of enforcers for the South East Asian Triad who becomes a marked man after saving a young girl from execution.
To survive the night, Ito teams up with a group of very unlikely heroes, including Arian (Iko Uwais), an old friend who despite being sent to kill his old friend turns his back on his own criminal enterprise to save the child. There is a lot of tension between the pair and it's hard to tell if Ito can even trust Arian throughout the bone-crushing adventure.
Stream The Night Comes For Us on Netflix. (opens in new tab)
Headshot (2016)
The Mo Brothers' (Timo Tjahjanto and Kimo Stamboel) 2016 action drama Headshot follows Ishmael (Iko Uwais), a man suffering from amnesia with no recollection of his past. That past, however, comes back to haunt the mysterious amnesiac as he and a young doctor named Allin (Chelsea Islan) find themselves in the crosshairs of a wide-reaching criminal organization.
Without giving too much away, Headshot is full of twists, turns, and incredible action sequences. Ishmael's journey to find out who he is and how he ended up washing ashore on the beach with no memory is as impressive as Iko Uwais' fighting skills.
Stream Headshot on Netflix. (opens in new tab)
Rent/Buy Headshot on Amazon. (opens in new tab)
Stuber (2019)
Michael Dowse's 2019 buddy cop movie Stuber follows LAPD detective Vic Manning (Dave Bautista) and his Uber driver, Stu Prasad (Kumail Nanjiani) as they track down a vicious drug lord and cop killer named Oka Tedjo (Iko Uwais). Full of great action, plenty of laughs, and more '80s movie references than you can count, Stuber is one hell of a thrill ride.
One of the best parts of the movie is seeing Iko Uwais play a more straightforward villainous role than we've seen him take on in the past. And Dave Bautista even had a lot of fun working with him even he had a hard time adjusting to the intensely fast fighting style of his co-star who also choreographed the on-screen fights.
Rent/Buy Stuber on Amazon. (opens in new tab)
Triple Threat (2019)
Jesse V. Johnson's 2019 action thriller Triple Threat follows a trio of down-on-their-luck mercenaries — Jaka (Iko Uwais), Payu (Tony Jaa), and Long Fei (Tiger Chen) — who reluctantly work together to prevent a dangerous crime syndicate from carrying out a hit on a billionaire's daughter.
With elements of comedy, drama, and plenty of action, there's a lot to like here, but the best part of the movie is seeing three legendary martial artists (who should all be in the John Wick franchise) share the screen together. Oh, and it doesn't hurt that Michael Jai White and Scott Adkins play two of Triple Threat's villains.
Stream Triple Threat on Netflix. (opens in new tab)
Rent/Buy Triple Threat on Amazon. (opens in new tab)
Beyond Skyline (2017)
Liam O'Donnell's Beyond Skyline, a sequel to 2010's Skyline, takes place at the same time as the original but focusses on a completely different set of characters, including Mark Corley (Frank Grillo), a LAPD detective who is transported to Southeast Asia after storming an alien spaceship. The action really picks up when Corley comes across a group of survivors, led by Sua (Iko Uwais), who want to stop the alien invasion once and for all.
Although not the best movie you'll ever see, Beyond Skyline does keep the franchise alive and features Iko Uwais engaging in hand-to-hand combat with aliens, which isn't something you see everyday.
Stream Beyond Skyline on Netflix. (opens in new tab)
Rent/Buy Beyond Skyline on Amazon. (opens in new tab)
Star Wars: The Force Awakens (2015)
And then there is Star Wars: The Force Awakens, which features Iko Uwais and his Raid co-star Yayan Ruhian make a very brief (some would say too brief) appearance not long after Rey (Daisy Ridley) and Finn (John Boyega) meet Han Solo (Harrison Ford). The two members of the Kanjiklub Gang are only in the movie for a couple of minutes before they're eaten alive by the Rathtars aboard Solo's ship. Maybe the pair will get a show on Disney+ one of these days.
Stream Star Wars: The Force Awakens on Disney+. (opens in new tab)
Rent/Buy Star Wars: The Force Awakens on Amazon (opens in new tab)
Those are some of the best Iko Uwais movies, but with the level of skill and charisma the actor, martial artist, and stuntman possesses, it wouldn't be out of the realm of possibility to see one of his 2021 movies on this list in the future. Just don't get your hopes up for The Raid 3 finding a spot on the list of upcoming 2022 movies.
Philip grew up in Louisiana (not New Orleans) before moving to St. Louis after graduating from Louisiana State University-Shreveport. When he's not writing about movies or television, Philip can be found being chased by his three kids, telling his dogs to stop yelling at the mailman, or yelling about professional wrestling to his wife. If the stars properly align, he will talk about For Love Of The Game being the best baseball movie of all time.