Snake Eyes Cast: Where You've Seen The Actors Before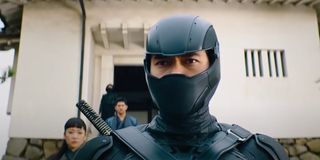 At long last, Snake Eyes, the origin story of the fan-favorite G.I. Joe character of the same name, is finally in theaters after what seems likes years of delays. But with the past firmly behind us and a potential new franchise upon us, some may be wondering where exactly we have seen the Snake Eyes cast before. From Henry Golding to Samara Weaving and other notable stars all getting plenty of time to shine on the silver screen, it isn't difficult to see why audiences want to see more from everyone involved with summer 2021 action film.
Below is a quick yet comprehensive breakdown of the major players in the Snake Eyes cast and where you've seen them before. With appearances on critically-acclaimed television programs, Oscar-winning movies, and decorated stage productions, this list is full of talent, from top to bottom.
Henry Golding (Snake Eyes)
Portraying the lone fighter simply known as Snake Eyes before the character joined up with the rest of the G.I. Joe crew is Henry Golding. Time will tell if Snake Eyes will become what Golding is best known for, but in the meantime he is most remembered for his portrayal of Nick Young, Constance Wu's uber-rich boyfriend in Jon M. Chu's 2018 megahit romantic comedy Crazy Rich Asians. Since stealing the hearts of millions of moviegoers a few years back, Golding has gone on to appear in thrillers like A Simple Favor, fantasy romantic comedies like Last Christmas, and the Guy Ritchie action comedy The Gentlemen.
Prior to his high-profile film appearances, Henry Golding hosted a number of travel shows and variety programs including The 8TV Quickie in Malaysia and The Travel Show on the BBC where he was based in the Malaysian capital city of Kuala Lumpur.
Andrew Koji (Thomas "Tommy" Arashikage/Storm Shadow)
Andrew Koji plays Thomas "Tommy" Arashikage, aka Storm Shadow, Snake Eyes' future archenemy, but before the two found themselves at the other end of each other's sword. Prior to playing the heir of Clan Arashikage in Snake Eyes, Koji made a name for himself as an actor, martial artist, and stuntman, including Fast and Furious 6, which saw him appear in an uncredited role as well as the stunt double for Sung Kang.
Since then, Andrew Koji has appeared in a series of short films as well as acclaimed television programs like Call the Midwife, American Gods, Peaky Blinders, and Cinemax's Warrior, where he plays series lead Ah Sahm, a Chinese martial artist who travels to San Francisco in search of his missing sister. He will also soon be a part of the massive Bullet Train cast alongside Brad Pitt, Joey King, Aaron Taylor-Johnson, Brian Tyree Henry, and more.
Úrsula Corberó (Baroness)
Representing the notorious terrorist organization Cobra is the group's second in command Baroness, played here by Úrsula Corberó. Prior to taking on the role of the iconic G.I. Joe enemy, Corberó found fame, first in her native Spain with acclaimed series like Fisica o Quimica, 14 de abril. La República, and Money Heist, which became a surprise hit on Netflix during its third season (the show was even more popular than Tiger King at one time) Corberó also had a recurring role on the Crackle adaption of Snatch in the show's second season.
In addition to all the live-action work she has done throughout her career, Úrsula Corberó has also lent her voice to a number of animated movies including Cloudy with a Chance of Meatballs 2, The Secret Life of Pets, and The Emoji Movie.
Samara Weaving (Scarlett)
Bridging the gap between G.I. Joe and Clan Arashikage in Snake Eyes is Scarlett, played by Samara Weaving. One of the biggest names on the Snake Eyes cast, Weaving is probably best remembered for her portrayal of Grace Le Domas in the 2019 black comedy horror film Ready or Not, which earned her plenty of recognition from the horror community. Over the years, Weaving has also appeared in movies like Three Billboards Outside Ebbing, Missouri, The Babysitter (and its sequel The Babysitter: Killer Queen), and Guns Akimbo. She will soon appear in Damien Chazelle's Babylon.
Samara Weaving's notable roles aren't exclusive to the world of cinema as she has been a part of a handful of popular television programs over the years. From. Home and Away to Ash vs. Evil Dead and SMILF to Hollywood, Weaving has pulled off everything from comedy to horror. She will also appear in one of the most anticipated entries on the 2021 Summer TV schedule when she joins the rest of the Nine Perfect Strangers cast in Hulu's thrilling limited series.
Iko Uwais (Hard Master)
Taking on the role of Hard Master, the formidable leader of Clan Arashikage and Storm Shadow's uncle, is Iko Uwais. Fans of martial arts movies and the action genre in general will instantly recognize Uwais for his career-defining portrayal of Rama in Gareth Evans crime epics The Raid: Redemption and The Raid 2. Prior to that, Uwais had a breakout role in Evans' 2009 crime action drama Merantau. If you are a big fan of Star Wars, especially the Sequel Trilogy, then you will probably recognize Uwais from his brief appearance as Razoo Qin-Fee, one of the bandits who confronts Han Solo early in the movie.
More recently, Iko Uwais has appeared in movies like The Night Comes for Us, Stuber, and Triple Threat, with more on the way, including Wu Assassins: Fistful of Vengeance, a continuation of the Netflix supernatural action series Wu Assassins. Let's just hope Uwais one day ends up joining the John Wick franchise.
Haruka Abe (Akiko)
Haruka Abe portrays a trainee with Clan Arashikage named Akiko, who, in addition to being more than capable of taking care of herself in a fight, also has a long history with both Snake Eyes and Storm Shadow. Prior to landing one of the lead roles in Snake Eyes, Abe made a name for herself on a number of British television series including Ideal, Doctors, and Stath Lets Flats. Abe also voiced a character by the name of Noodle in the 2020 web series Song Machine created by the virtual rock band Gorillaz.
Over on the film side of things, Haruka Abe has appeared in movies like 47 Ronin, About Time, The Knife That Killed Me, Random 11, She's Just a Shadow, and the 2021 Disney live-action 101 Dalmatians origin story Cruella.
Takehiro Hira (Kenta)
Takehiro Hira portrays the antagonistic and revenge-driven Kenta, who is hellbent on getting back at Clan Arashikage after he was booted from the group and joined up with Cobra. A veteran of theatre, film, and television, Hira has appeared in movies like Memories of Tomorrow, The Floating Castle, Ace Attorney, The Eternal Zero, and Lost Girls & Love Hotels, to name only a few. His television credits, which are in the dozens, include The Life of Juzo Itami, Sanada Maru, Yasuke, and Absolute Zero among many, many more.
Throughout his stage career, Takehiro Hira has taken on roles in a number of different Shakespeare productions including King Lear, Hamlet, and Othello.
Peter Mensah (Blind Master)
Taking on the role of Blind Master in Snake Eyes is Peter Mensah. Prior to his portrayal of the co-leader and trainer of Clan Arashikage, Mensah appeared in movies like Jason X, Tears of the Sun, and Hidalgo, but most will remember the actor from being the Persian messenger on the receiving end of Leonidas' (Gerard Butler) "This is Sparta!" kick in 300. In the years following the eye-catching Zack Snyder Greek epic, Mensah has gone on to show up in The Incredible Hulk, Kevin Hart: What Now?, and Rise.
Peter Mensah also has a prolific television career with multiple one-off appearances on shows like La Femme Nikita, Star Trek: Enterprise, and True Blood. Mensah also had a major role on Starz's Spartacus franchise, where he portrayed Oenomaus. He also appeared on Agents of S.H.I.E.L.D., Sleepy Hollow, and Departure in recent years.
Steven Allerick (Snake Eyes' Father)
And then there is Steven Allerick who portrays Snake Eyes' father. Prior to joining the Snake Eyes cast, Allerick appeared in a recurring guest role on The Expanse back in 2019 and The Fix before that. Over the years, Allerick has showed up on everything from Fear the Walking Dead to Colony and multiple others in between. Allerick got his first big break in show business with his portrayal of Simba in multiple off-Broadway productions of The Lion King.
These are just the main members of the Snake Eyes cast as there are multiple other actors and martial artists taking on smaller roles in the G.I. Joe origin story. Now that you've seen the movie and read about the all-star cast, why not check CinemaBlend's 2021 movie premiere schedule to see what other movies will join Snake Eyes at the box office this summer and beyond. Just don't forget about all the other Paramount Pictures movies coming to theaters this year including Top Gun: Maverick.
Philip grew up in Louisiana (not New Orleans) before moving to St. Louis after graduating from Louisiana State University-Shreveport. When he's not writing about movies or television, Philip can be found being chased by his three kids, telling his dogs to stop yelling at the mailman, or yelling about professional wrestling to his wife. If the stars properly align, he will talk about For Love Of The Game being the best baseball movie of all time.