Birds Of Prey's Jurnee Smollett Reacts To Black Canary Movie News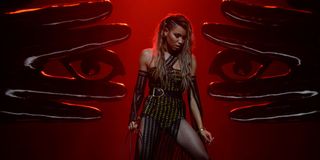 Birds of Prey introduced Black Canary to the DC Extended Universe, and Jurnee Smollett's performance was one of the movie's highlights. Now, Smollett is set to return in a Black Canary solo movie set for HBO Max, and fans are very excited to see her return. The internet has been pulling for more her version of Dinah Lance in the DC universe for a while, and the actress herself has been adamant about wanting to return to the character. So it seems everyone has now been granted their wish. Now, the actress has reacted to the recent movie news with a sweet response.
Jurnee Smollett reacted to the Black Canary movie news via Twitter and, as expected, she couldn't be more excited. Her response was also followed by a flood of congratulations and excitement from fans. Here is her reaction tweet:
The excitement from Jurnee Smollett is refreshing, and you can't help but be happy for her. It's also great to see that she'll be reunited with Misha Green, the showrunner of Lovecraft Country, which was canceled by HBO despite the fact that it landed several Emmy nominations and amassed a significant fanbase. The two collaborators appear to have a great working relationship and personal friendship, which should bode well for the DC film. This is also another nice notch for the in-demand Misha Green, who is also reportedly is writing and directing the sequel to Alicia Vikander's Tomb Raider.
And in case you need more evidence of how close the two are, Jurnee Smollett also replied to Misha Green's response to the news with another tweet. Check it out for yourself down below:
As Misha Green says, this announcement is just the start of a long journey for Black Canary but she seems to be willing and ready to work alongside Jurnee Smollett again. Interestingly, Green also leaves a cryptic string of emojis that seem to be outlining some of her ideas for the film, which will be fun for fans to try and make out.
In Birds of Prey, Black Canary (or Dinah Lance) saved Harley Quinn and ultimately teamed up with her and the film's other heroes to take down the villainous Black Mask, played by Ewan McGregor. Her connection to Harley Quinn is essential and might lead to more collaborations, including (hopefully) a sequel to Birds of Prey.
DC and Warner Bros. are really starting to rev up production on DCEU movies and shows, as Black Canary is only the latest of several confirmed projects that have made progress lately. Fans will be able to look forward to seeing other heroes like Batgirl and even Blue Beetle get their cinematic shine, and it's exciting to know that we can now add Dinah Lance to that list. And for those who aren't in the know, check out our list of upcoming DC projects as you await these exciting projects.
Movie and TV obsessive. A good Heist movie is the way to my heart. Enjoyer of everything from Marvel Movies to Rom-coms.
Your Daily Blend of Entertainment News
Thank you for signing up to CinemaBlend. You will receive a verification email shortly.
There was a problem. Please refresh the page and try again.