HeroBlend #25: Venom Reaction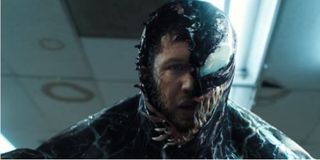 Welcome to HeroBlend #25! Today, Eric and Adrienne welcome special a guest, ReelBlend co-host/CinemaBlend Managing Editor and all around Spider-Man fanatic, Sean O'Connell, to the show. Sean has seen Venom, and he's here to answer all our questions and give us all the spoilery details about the long-anticipated film that we can handle! Generally, we start the show off with a smattering of the week's news items to keep you up-to-date on major happenings in superhero movies and TV. Well, this time around there's just too much good stuff to get to with regards to Venom, so we'll be jumping right into the main conversation.
To start, if you haven't seen the movie yet but still want to hear about Sean's impressions of Venom, you're in luck. What we've done for you this time is begin HeroBlend with about 15 minutes of pure, unadulterated, spoiler free Venom discussion! We'll talk, in general, about the plot, performances, action sequences and special effects, so you can get a basic idea of what Sean thought of the movie. After that, never fear, full fucking spoilers are here! That's right, the next step is for Eric and Adrienne to grill Sean on the specifics of what did and didn't work in Venom, using concrete examples from what he saw. We'll go over everything from the spoiler free portion, but more in-depth, and also touch on things like how many symbiotes the movie actually uses and whether or not it's easy to tell them apart, if the movie works with a PG-13 rating, if the film really did need some Spider-Man and how many dudes you can expect to get eaten.
Next, we'll move on to the the mid-credits scene, with Sean describing it and giving his thoughts on what it means for potential sequels. Then we'll go over what we know of the rest of the planned Sony Spider-Man cinematic universe, and how we think Venom's performance will impact those plans. Sit back and relax, folks, because this is one chat you're not going to want to miss! Ready to dive in? Great! Listen for yourself above!
Now, get in on the superhero-filled fun and have a listen to the HeroBlend Podcast #25! And, be sure to subscribe to the HeroBlend Podcast on iTunes, right here and follow us on Twitter, @HeroBlend.
Bachelor Nation, Gilmore Girl; will Vulcan nerve pinch pretty much anyone if prompted with cheese...Yes, even Jamie Fraser.
Your Daily Blend of Entertainment News
Thank you for signing up to CinemaBlend. You will receive a verification email shortly.
There was a problem. Please refresh the page and try again.