Tim Tebow Just Hit A Home Run On The First Pitch Of His First At-Bat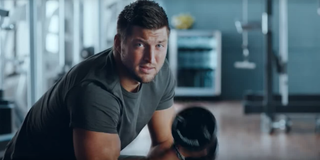 Tim Tebow may have devoted the last decade of his life to football, but it looks like his real calling may have actually been baseball all along! The former NFL quarterback managed to hit a home run off the first pitch that was ever thrown to him since he signed to the minor leagues.
As can be seen in the video shared by TMZ, Tim Tebow slammed the baseball past left center field for a home run on his first ever at-bat in a professional game. The match was an instructional league game between Tebow's minor league team the Port St. Lucie Mets and the St. Louis Cardinals. The Florida crowd went wild as their hometown hero rounded the bases.
Just a month ago, Tim Tebow made the surprising announcement that he will be pursuing a career in baseball, despite the fact that he's been known as a star NFL quarterback for the past several years. Tebow hadn't played baseball since he was a high school junior in 2005, but actually had a promising future in the sport at the time. The Los Angeles Angels had even expressed an interest in drafting Tebow had he continued the sport through his senior year, but instead he shifted his focus to football.
Tim Tebow made a name for himself as a college football star with the Florida Gators from 2006 to 2009. He became the first sophomore to ever win the Heisman Trophy, an award he was a finalist for both his junior and senior years as well. But Tebow's professional career with the NFL was less successful in terms of gameplay. The quarterback bounced from team to team for years, each signing short contracts with him.
But despite what has been considered a somewhat disappointing NFL career, Tim Tebow managed to turn himself into one of the most recognizable faces of modern football, thanks largely to his devout religious beliefs. He made headlines after graduating college when the NCAA instituted a new rule that athletes could not write messages on their eye paint, which became known as "The Tebow Rule" since he was famous for writing Bible verses under his eyes. Additionally, after NFL fans began noticing that Tebow would often kneel in prayer on the sidelines during his games, the Internet fad of "Tebowing" began, in which people would take photo of themselves kneeling with their heads down.
Along with his new baseball career, Tim Tebow is also preparing to release his second book, a religious autobiography called Shaken. It follows in the same vein of his 2011 autobiography Through My Eyes.
Your Daily Blend of Entertainment News