Corey Feldman Calls Himself A Slave Child In Troubling Comments About His Youth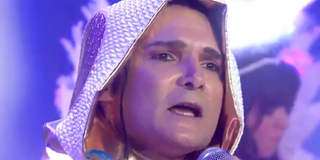 (Image credit: The TODAY Show)
Though he's a famous celebrity, life hasn't been easy for '80s movie icon Corey Feldman. The actor and musician has spoken about the traumatic events of his early life as a child star before, and now he's opening up even more about his parents were also involved in the abuse he suffered from the entertainment industry.
In this week's issue of PEOPLE, Corey Feldman describes his childhood in the limelight as a traumatic time, saying that he felt like a "slave child" after being forced into acting at the age of 3.
Corey Feldman has begun to speak openly about the abuse he underwent as a child star in recent years. In his 2013 autobiography Coreyography, Feldman revealed that his mother would force-feed him diet pills as a child, and he also stated that one of his father's assistants had raped him and facilitated his drug addiction. Due to these abuses, Feldman filed for emancipation from his parents at age 15, only to find that the $1 million he had accrued through his acting career had been picked dry by his parents.
And it wasn't only his parents that Corey Feldman accused of abusing him --- although Feldman starred in beloved classics like Goonies, Stand By Me, and Gremlins, he says that what was going on behind the scenes was horrendous. A year after his best friend and fellow '80s child star Corey Haim died in 2010, Feldman revealed that he and Haim had both been molested during their years as child actors.
Now, Corey Feldman has his own son, and he says that it's because of his terrible childhood experiences that he is choosing to keep his 12-year-old son, Zen, out of the spotlight.
Though Corey Feldman's ex-wife, model Susie Sprague, retains custody of their son, Feldman is apparently still involved in Zen's life. Feldman and Sprague married during the season 1 finale of The Surreal Life in 2002. M.C. Hammer officiated the nuptials. They stayed together for seven years before divorcing in 2009.
Nowadays, Corey Feldman is focusing on his music career. He made waves a month back after a bizarre performance of his single "Go 4 It" on the TODAY Show, during which he wore an all-black hooded outfit while backed by a band of women dressed in angel costumes. The strange performance received considerable media attention, and Feldman criticized for his jarring behavior by some, before singers like P!nk and Miley Cyrus defended him. On Thursday, Feldman returned to the TODAY Show for a "comeback" performance of his song "Take A Stand," which also featured Feldman in a hooded outfit and angelic backups.
Your Daily Blend of Entertainment News