Watch Matthew McConaughey Surprise College Kids By Giving Them A Ride Across Campus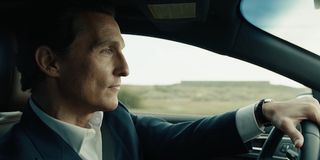 Matthew McConaughey went back to college recently, but instead of partying he offered his services to help out some students. The Oscar-winning actor worked his alma mater's campus safety program to give students a lift who needed it. Check out the video below.
A handful of students at the University of Texas at Austin got a huge surprise when Matthew McConaughey pulled up in a golf cart to safely transport them around campus. McConaughey was working with the university's SURE Walk program, which stands for Students United for Rape Elimination. The program provides volunteer accompaniment for university students who feel unsafe getting around campus alone at nighttime.
The campus group uploaded a video of Matthew McConaughey driving around his alma mater and meeting the new generation of UT Austin students. Of course, everyone to get in the golf cart was shocked to discover who their superstar driver was, and McConaughey was kind enough to pose for selfies with his passengers once they reached their destinations. Plus the actor showed off his college town pride by flashing a "hook 'em" horns gesture as he drove by a group of students.
Matthew McConaughey's drive around the University of Texas at Austin campus must have made him nostalgic for his days there back in the early '90s. Though the campus has clearly changed a bit since his days on the quad --- you can hear McConaughey have to ask his student copilot clarification on a destination name --- the actor's years at the school were what wound up launching his career as an actor.
It was when he was an upperclassman in UT Austin's Radio-Television-Film program that Matthew McConaughey wound up randomly running into a movie producer at a local hotel bar. The producer and director tell the full wild, happenstance story in a Texas Monthly oral history, but basically the producer and McConaughey struck up a conversation and although he had a very limited experience acting, McConaughey wound up charming his way into getting an audition for Dazed and Confused and then, of course, landing his first movie role. Even better: McConaughey's audition for the movie was filmed and still exists online --- check it out below!
Of course, Matthew McConaughey has come a long way since his college days, but it must have been nice for him to go back to that time before he got discovered and connect with some of the students.
Your Daily Blend of Entertainment News
Thank you for signing up to CinemaBlend. You will receive a verification email shortly.
There was a problem. Please refresh the page and try again.