Why Carrie Fisher Feels A Bit Guilty About Revealing The Harrison Ford Affair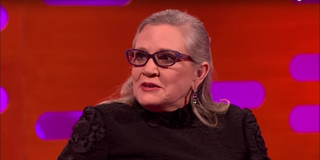 Carrie Fisher held her tongue about the affair she had with Harrison Ford for four decades --- it might as well have taken place in a galaxy far, far away at this point --- but that doesn't mean that she feels totally guilt-free about finally revealing the brief on-set fling. After the steamy tidbit was picked up by hundreds of thousands of media outlets, Fisher is admitting that she didn't fully realize the repercussions of telling the truth.
During an interview on The Graham Norton Show, Carrie Fisher said that she had neglected to think about how Harrison Ford would have to deal with her coming forward about the affair before she wrote about it in her new book. Fisher said that she and Ford would never bring up the brief affair even though they'd remained in close contact for all these years, and the few times she brought it up he would just grumble. When Norton pointed out that the taciturn Ford is going to have to have to actually open up and do a lot more than grumble about the affair now that the world knows about it, Fisher admitted that she feels guilty about having to put Ford through the press circuit because of it.
Check out the full clip below.
Carrie Fisher opened up about her affair with Harrison Ford a few weeks ago in her new memoir The Princess Diarist. Fisher wrote that the two actors were hooking up while filming Star Wars: A New Hope back in 1976, though Ford was married with two kids at the time. The affair only lasted a few months, and given that Ford had divorced his then-wife Mary Marquardt all the way back in 1979 and 40 years have passed since it happened, Fisher said she felt it was okay to finally write about.
But what Carrie Fisher didn't see coming was the intense public interest in the decades-old tryst. She pointed out that over 400,000 news sources picked up the story, and Fisher has been giving multiple interviews about it since. And now her costars are being asked to comment on it too --- just last week Mark Hamill revealed that he had no idea the affair was even happening after being asked about it. That's the part she doesn't want to put Harrison Ford through, since he's famously uncomfortable bringing his personal life into the spotlight.
We'll just have to see if Harrison Ford can grumble his way out of the impending interviews.
Your Daily Blend of Entertainment News
Thank you for signing up to CinemaBlend. You will receive a verification email shortly.
There was a problem. Please refresh the page and try again.