This Woman's Dolls Are So Lifelike Someone Reported Her For Selling Babies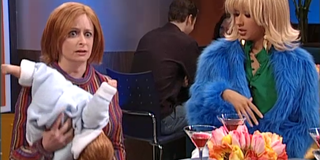 (Image credit: Saturday Night Live)
Life as a grandmother who makes dolls in Ohio sounds pretty quaint, doesn't it? It seems like nothing could be more fulfilling than spending your days putting together dolls that will put smiles on the faces of children everywhere. But things weren't so sweet for one doll-maker this week, who got too good at her job of making lifelike dolls and had to prove to the police that she wasn't selling actual babies.
That's what happened to Kathy Cadle, a grandmother from Sheffield Lake, Ohio who makes and sells her own hand-painted lifelike dolls, Metro UK reports. Apparently, Cadle got too good at making her dolls look like real babies, and the police came to her house on suspicions that she was selling actual human infants to consumers online. I mean, it's never a great thing to be investigated for human trafficking, but I think Cadle should be at least a little complimented that her artistry was good enough to make people think her dolls were actual babies.
The police came to Kathy Cadle's house and told her about the reports that she was selling children online. Obviously, Cadle was shocked at the accusation, and handed one of her dolls over to the officer. After taking a closer look at all of her creations and realizing that none of them were moving or breathing, the officer was convinced Cadle was just selling dolls and nothing more.
As you could probably deduce by now, Kathy Cadle doesn't make Cabbage Patch Kids or Barbies. She crafts what are known as reborn dolls, a niche market in the doll collecting community that focuses on making baby figurines that look as lifelike as possible. Cadle and her sister Rachel Smith were taught the art of crafting these lifelike baby dolls from their mother, and you can see what these dolls actually look like in Smith's Facebook page for her business Bunny Bundles Reborn. Check out another one of her incredibly realistic baby dolls below.
Yep, I can definitely see why people were convinced the dolls were real children. Since the goal of making these reborn dolls is to come as close to replicating an actual baby as possible, it's no wonder that Cadle and Smith put such an alarming amount of detail into their dolls to make them indistinguishable from a real infant. Along with specialty doll collectors, reborn dolls also serve as therapy tools for parents grieving the loss of a newborn or people suffering from dementia or Alzheimer's.
I guess getting investigated for human trafficking is just a hazed of the trade.
Your Daily Blend of Entertainment News
Thank you for signing up to CinemaBlend. You will receive a verification email shortly.
There was a problem. Please refresh the page and try again.