Former NFL Star In Trouble After Apparently Exposing Himself At A Gas Station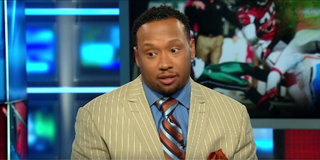 (Image credit: CNN Newsroom)
One former NFL star is getting a lot of exposure this week... literally. Retired running back Jamal Anderson had a run in with the police on Wednesday morning after he reportedly exposed and pleasured himself in a local gas station.
Jamal Anderson appeared intoxicated as he entered a Suwanee, Georgia gas station early on Wednesday morning and began handing the cashier money with no explanation, slurring indecipherably in the process, TMZ reported. Anderson then made his way to the back of the store and reportedly began to masturbate. After Anderson ignored the cashier's attempts to tell him to leave, he called the police and described the situation.
You can hear the full police call below.
When the cops showed up, the cashier told them that he didn't want to press any charges, so Jamal Anderson only wound up getting a ticket for criminal trespassing, and the police called him an Uber to take him home. He has also been banned from the gas station on the threat of being arrested upon entry.
Jamal Anderson has been retired from the NFL for fifteen years after eight seasons as a running back for the Atlanta Falcons. He has since appeared regularly as a commentator on a number of sports programs. Pretty ironically in regards to this story, he was perhaps best known for his touchdown celebration dance called the Dirty Bird, which involved Anderson mimicking a dancing bird in the endzone. I think he might have given Dirty Bird a new meaning after that gas station incident, though...
This isn't Jamal Anderson's first run-in with law enforcement. In early 2009, he was arrested for snorting cocaine off of a nightclub toilet bowl, and in 2012 he was issued a DUI and arrested again, only to be arrested for another DUI in 2015 and brought in a fourth time for a suspended license charge earlier this year. At least this gas station exposure thing is less severe than those other brushes with the law. Let's just hope Anderson doesn't need to refill his gas tank anytime soon.
Your Daily Blend of Entertainment News
Thank you for signing up to CinemaBlend. You will receive a verification email shortly.
There was a problem. Please refresh the page and try again.