How Kate Beckinsale Reacted To Her Daughter Getting Into College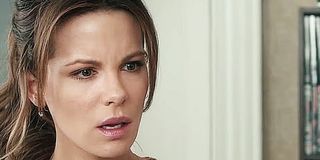 Kate Beckinsale and Michael Sheen may not be together romantically anymore, but that won't stop them from jumping into a huge, ecstatic embrace to celebrate their teenage daughter. The former couple's 17-year-old daughter Lily Sheen was accepted into college this week, and the actors showed their immense pride in a pair of joy-filled photos. Beckinsale posted a shot of Sheen picking up Lily in excitement, and then a photo of Sheen holding her in an exuberant hug. Check out the photos below, and just try not to smile!
Accompanying the joyous reaction shots, Beckinsale summed up the emotional moment of parental pride:
As that response clearly shows, although Kate Beckinsale and Michael Sheen have been separated for 13 years, they remain as close as ever. The former flames are one of Hollywood's paramount examples of exes who remain friends after the breakup. Beckinsale even gushed about how much she loves Sheen's current girlfriend Sarah Silverman to PEOPLE earlier this year, and of course they are also both lovingly involved in raising their daughter Lily.
Kate Beckinsale and Michael Sheen began dating back in 1995 while performing in theatrical productions in England together fresh out of university. Four years later, they welcomed Lily into the world, but the couple wound up ending their eight-year relationship in 2003 after the pair costarred in the action horror film Underworld together. Beckinsale fell in love with director Len Wiseman while on the set of that film, and she married him the next year. Beckinsale and Sheen never married, but they have commented that their long relationship felt as though it was a marriage.
Currently, Michael Sheen is dating his Masters of Sex costar Sarah Silverman, and Kate Beckinsale is in the process of getting divorced from Len Wiseman after 12 years of marriage. The couple announced their separation at the end of last year, and Wiseman filed the divorce papers a few months back.
But no matter what differences are going on in their personal lives, Kate Beckinsale and Michael Sheen are clearly able to make time to celebrate their daughter Lily's accomplishments. And if collegiate performance has anything to do with genetics, then Lily stands a pretty good chance at owning the whole higher education experience. Both Beckinsale and Sheen excelled during their times at university --- Beckinsale studied foreign literature and drama at Oxford University, and Sheen won a scholarship to train at the illustrious Royal Academy of Dramatic Art.
I think it's safe to say we can expect great things from young Lily!
Your Daily Blend of Entertainment News
Thank you for signing up to CinemaBlend. You will receive a verification email shortly.
There was a problem. Please refresh the page and try again.