Blac Chyna Shared Nude Photos In Celebration Of Black History Month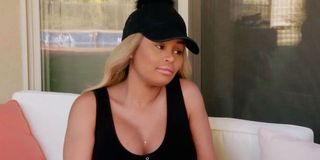 Blac Chyna does Black History. The reality star went all out on Wednesday to ring in the beginning of Black History Month this year by posting some breath-taking shots from a tribal-themed photoshoot. Take a look at the photos that Chyna posted on her Instagram below.
In place of the glamorous clothes that she normally wears, Blac Chyna instead wore nothing but a few streaks of paint. She also traded in her usual straightened wig for a more natural-inspired wig full of big and beautiful curls. And let's not forget that she also just gave birth to little Dream Kardashian less than three months ago --- she clearly took care of that pregnancy weight in record time!
Blac Chyna explained to PEOPLE that the beginning of Black History Month is what inspired this photoshoot, saying that she was showing off her "inner Queen" in the series of photographs.
This is far from the first time that Blac Chyna has shown off her body in a nude photoshoot. While she was still pregnant with Dream Kardashian back in August of last year, Chyna appeared completely nude on the cover of Paper Magazine, channeling an ethereal goddess. And it's also not the first time that Chyna has used body paint to make a statement. Back at the 2015 Video Music Awards, Chyna and her bestie Amber Rose dressed up in bodysuits with derogatory terms that had been flung at them ("hoe," "gold digger," "stripper") painted on them as a statement of reclamation.
According to PEOPLE, this photoshoot was shot by fashion photographer Orin Fleurimont, and the hair was done by stylist Kellon Deryck. The body painting was done by tattoo artist Chris Boykins, who has worked with Blac Chyna before, when he painted her baby belly for the promo shots for her reality show Rob & Chyna.
Although the shoot came out beautifully, Blac Chyna's Black History Month photo shoot will have to settle for being only the second best of the day --- nobody can touch Beyonce's Instagram announcement that she's pregnant with twins. Unfortunate timing, Chyna, but you still look amazing!
Your Daily Blend of Entertainment News
Your Daily Blend of Entertainment News
Thank you for signing up to CinemaBlend. You will receive a verification email shortly.
There was a problem. Please refresh the page and try again.