Hilary Duff's Ex-Husband Is Reportedly Being Investigated For Rape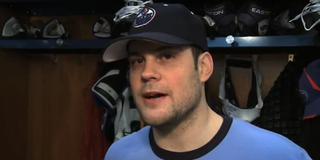 (Image credit: YouTube)
Mike Comrie's divorce from Hilary Duff may have been finalized around this time last year, but it sounds like the former NHL star may be wrapped up in another legal battle now. Comrie is reportedly under investigation after a woman accused him of raping her over the weekend.
According to a report from TMZ, a woman who met up with Mike Comrie at a bar on Saturday night is alleging that the hockey player took her back to his Los Angeles home and raped her multiple times. Comrie is saying that they did have sex, but it was consensual. The woman says that after the rapes, she immediately went to a nearby medical center and had a rape kit administered to prove her case. E! News has confirmed that Comrie is indeed involved in an open sexual battery case with the Los Angeles Police Department.
TMZ's sources go on to say that Mike Comrie has actually known the woman who is accusing him of rape for a long time, and go on to say that both of them were engaged in a threesome that night with another woman, but that woman has not spoken up about the incident yet.
Mike Comrie is best known for his professional hockey career and relationship with singer and actress Hilary Duff. He began dating Duff in the summer of 2007, a period when Duff was transitioning her career from her Disney Channel star adolescence to a more mature image in both her acting and music. They got married three years later in Santa Barbara, and then gave birth to their son Luca Cruz Comrie in 2012. But although their relationship lasted seven years (basically an eternity in Hollywood), they announced their separation in 2014 and Duff officially filed for divorce in 2015 citing irreconcilable differences, and also requesting primary physical custody of Luca. The divorce was just finalized early 2016.
Before Hilary Duff released her first album since the break-up, Us Weekly reported that one of the songs on the release would be inspired by Mike Comrie and her separation from him. That was likely referring to the pained, break-up track "Stay In Love" from 2015's Breathe In. Breathe Out.
But it looks like Mike Comrie is far from the days of celebrity marital bliss now, as he faces his sexual battery charge. TMZ's sources have said that Comrie has yet to speak with the police, so there's still a lot that will develop in this story over the next few weeks, I'd imagine.
Your Daily Blend of Entertainment News
Thank you for signing up to CinemaBlend. You will receive a verification email shortly.
There was a problem. Please refresh the page and try again.