Why Barry Manilow Didn't Come Out For Decades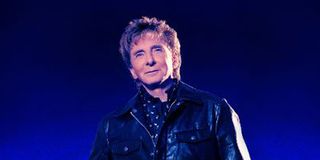 Barry Manilow became a household name in the 1970s when he skyrocketed to fame with hit songs like "Mandy" and "Copacabana (At the Copa)." Manilow has sold more than 80 million records and toured the world multiple times. Despite his popularity, he has mostly managed to keep his private life out of the news. But now it seems Manilow is ready for things to change. In a new interview, Manilow directly addressed his sexual orientation and spoke about his marriage to his longtime partner, Garry Kief, whom he married in 2014 after nearly four decades together. The 73-year-old singer-songwriter expounded on why he decided not to discuss his private life for such a long time. Here is what he said:
People reported Barry Manilow's explanation. After all, he got his big break playing music at the Continental Baths, a gay bathhouse that used to be in the basement of The Ansonia Hotel in NYC. Bette Midler, who was a fast-rising star at the time, was another one of the acts to perform at the bathhouse. Barry Manilow arranged music for Midler, accompanied her at the Continental Baths, and produced her first two albums, and as her career took off, so did his. Although Manilow's sexual orientation was never such a huge mystery, it's still interesting to learn why he wasn't super open about his romance over the years.
Barry Manilow and Garry Kief met in 1978, and the pair began a lasting relationship and a working partnership. Kief became Manilow's manager and President of Barry Manilow Productions. The romance remained something of an open secret in Hollywood until the couple's close friend, actress Suzanne Somers, mentioned on a talk show that Manilow and Kief had quietly married in Palm Springs in 2014. Still, Manilow remained tight-lipped about everything.
Barry Manilow has a strong fanbase in the music business. (They call themselves Fanilows.) Still, his career's biggest sponsors were music lovers from middle-America in an era when gay was not something to mention. In past interviews, Manilow has talked about how different Hollywood is today compared to how it was at the beginning of his career. We're still living in an era where not everyone is read to make an announcement like Manilow's, often for career reasons. Whether or not the announcement was in the making for decades, it still took guts. It's nice that Manilow now feels confident enough to talk about his marriage, even if it did take a while to get there.
Your Daily Blend of Entertainment News
Thank you for signing up to CinemaBlend. You will receive a verification email shortly.
There was a problem. Please refresh the page and try again.