What Happened When Prince William Met With The First Responders To The Manchester Attack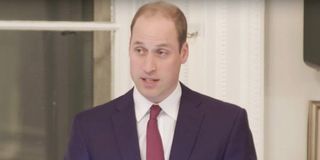 (Image credit: Duke of Cambridge speech at Guild of Health Writers with Heads Together)
People continue to grieve after the suicide bombing terrorist attack that killed 22 individuals and injured more than 100 others at Manchester Arena following a pop concert by Ariana Grande on May 22. In the days since the attack, many famous faces have turned up in Manchester. One notable person to visit the city was Prince William, who spent time in Manchester late last week, meeting with first responders to the scene, learning more about what happened.
The Duke of Cambridge spoke with the first responders and paid respects to the injured, the victims, and their families. Prince William's visit took him to the Greater Manchester Police headquarters, where he met with the dispatchers and officers who first took the call about the bombing. Lisa Canovan, an emergency dispatcher, described an interaction with the famous prince and said,
Prince William reportedly heard that harrowing story and several others from the event. According to People, the prince spoke with Officer Michael Buckley, who was not on duty but was outside the arena and waiting for his daughter and her friends, who had attended the show; Buckley and his child later reunited. Prince William also heard from Chris Jenkins, a police community support officer who lives near the arena. Jenkins described hearing the explosion and then running toward the chaos to help people.
Many of the officers with whom Prince William spoke expressed their appreciation for his interest and kindness. Prince William reportedly asked officers if they were receiving all the help they needed after the traumatic incident. In fact, he reportedly even inquired about the well-being of the police dogs.
While in Manchester, Prince William went to the Royal Manchester Children's Hospital to see children in the intensive care unit as a result of the attack. His grandmother, Queen Elizabeth II, had paid a similar visit the day prior. The prince drew a crowd outside the hospital, as you can see in the following tweet:
Prince William also visited the Manchester Cathedral and wrote touching words in a book of condolences. The 34-year-old prince wrote,
Prince William's written words served to underscore the statement he, Princess Catherine, and Prince Harry released the day after the attack. The trio had expressed grief regarding the incident and gave praise to "the people of Manchester for their display of strength, decency and community that is an example to the world."
In recent times, Prince William and his family have taken great strides to help people through Heads Together, a campaign to raise awareness about mental health causes and reduce stigmas attached to asking for help. So, it is heartening to see the prince standing with Manchester during this difficult time when many people there could use a helping hand and a shoulder to lean on. Hopefully, his presence lent some strength to all those grieving.