Mary-Louise Parker's Nanny Reportedly Stole Thousands From The Weeds Star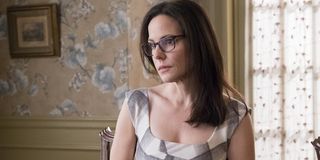 Emmy Award-winner Mary-Louise Parker might be in the market for a new nanny. The 52-year-old actress recently paid a visit to law enforcement officials in Brooklyn, New York, to file a criminal complaint against her former nanny, Amanda Hostin-St. Louis, who supposedly stole thousands of dollars from Parker by using her bank information on at least two occasions this year alone.
Apparently, Amanda Hostin-St. Louis had access to Mary-Louise Parker's debit card and PIN number because the actress sometimes asked the former nanny to run errands for her teenage son, William Crudup, and young daughter, Caroline Parker. However, the movie star caught wind of a shady situation because her bank informed her about unusual transactions. Reportedly, the nanny made two substantial withdrawals, each of at least $3,000, in the last few months. In fact, Mary-Louise Parker allegedly linked the nanny with the disappearance of about $30,000 since last year.
Per The Daily Mail, the police arraigned Amanda Hostin-St. Louis in Brooklyn Criminal Court on Tuesday, June 20, on charges of criminal possession of stolen property, grand larceny, and identity theft. The authorities later released Hostin-St. Louis of her own recognizance without bail. She is expected to appear in court to deal with the matter on August 1.
Mary-Louise Parker has continued to rake in the dough since the end of Weeds a couple of years ago. These days, Parker just completed When We Rise and is busy with the television show Billions. Plus, she has checks coming her way for parts in upcoming projects like the film Red Sparrow and the small-screen adaptation of Stephen King's Mr. Mercedes. So, her bank account probably looks like a great target for thieves.
It is a good thing Mary-Louise Parker figured out what was happening before the situation got any worse. Luckily, the amount of money Parker is missing pales in comparison to the $5 million Alanis Morrisette's former business manager admitted to stealing from his client last year. Morisette and Parker are both on a growing list of celebrities who have been targeted by thieves in recent years. Others on the list include Kendall Jenner, Nicki Minaj, and Emmy Rossum.
Mary-Louise Parker's situation most likely has a sharp sting, as the supposed theft was an inside job, much like it was in Alanis Morissette's case. In fact, it sounds like Parker had a real relationship with Amanda Hostin-St. Louis before the thefts, and the Hollywood star even included the former nanny's name in the credits of her memoir, Dear Mr. You, from 2015.
Hopefully, Mary-Louise Parker can resolve the situation quickly and move forward with reliable helpers in the future.
Your Daily Blend of Entertainment News
Thank you for signing up to CinemaBlend. You will receive a verification email shortly.
There was a problem. Please refresh the page and try again.