The Incredible Tip Donnie Wahlberg Left A Waffle House Waitress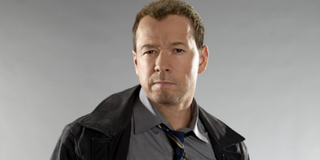 Sometimes celebrities do the most generous things. Donnie Wahlberg recently made the days of several employees at a Waffle House in Charlotte, North Carolina. The Blue Bloods actor stopped in for some dinner and had such a great experience that he left a $2,000 tip. Wahlberg explained his generosity in the caption of a photo that he posted to social media. He said his mom and dad used to work in the service industry, so now that he is a successful television actor, he tries to pay forward his good fortune when he encounters servers who treat him well. Check it out:
In addition to rounding way, way, way up for the tip on the $82.60 check, which you can see via Instagram, Donnie Wahlberg tossed in front row tickets and backstage passes to the Total Package Tour, which his band (New Kids on the Block) is participating in with Paula Abdul and Boys II Men. He must have been blown away with the service, or else the steak, eggs, grits, and bacon meal he had was the most delicious in Waffle House history.
Donnie Wahlberg also posted a video of himself and the wait staff at the Waffle House. The team looked thrilled to have a Hollywood star in the restaurant, and they talked about their love for his CBS police drama. Wahlberg also talked about how one of the servers planned to bring her mom as a guest to the show, and he explained how refreshing that was. Take a look at the video here:
Donnie Wahlberg has been extra generous at other Waffle House restaurants in the past. For example, he visited a Waffle House in Edgewood, Maryland, and left a $500 tip for the wait staff there because they had given him such good service. Wahlberg later took to social media to share his great experience and his good deed.
He has stopped by several other Waffle House restaurants throughout his tour, too. For example, here he was last month in Toledo, Ohio:
And here he was this month at a Waffle House in Youngstown, Ohio:
Donnie Wahlberg and his brothers own the restaurant Wahlburgers. Recently, Donnie Wahlberg said that if he is not at his family's restaurant, you can probably find him at a Waffle House. With all of the Waffle House visits he has made in recent times, it seems he is telling the truth.
Your Daily Blend of Entertainment News