Watch Olympic Gold Medalist Simone Biles Get Weird After Wisdom Teeth Surgery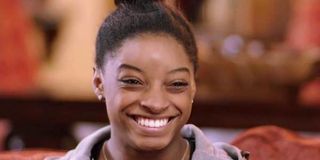 In addition to having gymnastics skills worthy of Olympic gold medals, Simone Biles also has the funniest viral video you will see on social media this week. The 20-year-old gymnast had surgery to extract wisdom teeth, and when she was coming out of sedation, she gave quite the comedic performance. Although Biles left the dentist's office with fewer teeth, she also left with the bonus of a side-splitting video to help her remember the moment. Thankfully, she shared the video on social media. You do not want to miss this one:
Beep beep! Here comes Simone Biles back from sedation. This video is too much. Did you catch how she thought she was in the middle of traffic for a moment, honked an invisible horn and then passed back out in the chair? We can't stop laughing.
Simone Biles took to Twitter to share the hilarious video with her 966,000 followers. She received a ton of comments from fans who were howling with laughter. Biles also tweeted details and said this video is but a snippet of a full video that clocks in at 14 minutes and contains other outrageous moments.
Before posting the video, the Olympic athlete and Dancing with the Stars contestant tweeted a collage of photos of herself before and after the surgery. For the after photos, she applied Snapchat filters to enhance her dazed look and mouth filled with gauze. The pictures are almost as funny as the video. Take a look:
Many of Simone Biles' followers on Twitter expressed wishes for a speedy recovery. Some, who had undergone such a surgery in the past, expressed empathetic words. For example, one of Biles' followers shared a story about crying because she could not remember Nikki Minaj lyrics when she woke up from sedation. Another of Biles' followers said she woke up doing sign language despite never having learned sign language.
Simone Biles' video resembles other viral videos of people post dental work. For example, the famous clip David After Dentist from 2009 has more than 125 million views on YouTube. But if making hilarious viral videos were an Olympic sport, Biles would crush it and get the gold. Here's hoping she posts more of the clips later.
Getting wisdom teeth is not fun, and the anesthetic they use is no joke. It makes people looney tunes when they are making their way back from the sedation. I'm glad nobody brought a camera after I had this surgery years ago. If you have a crazy post-dental-surgery story, tell us about it in the comments section.
Your Daily Blend of Entertainment News
Thank you for signing up to CinemaBlend. You will receive a verification email shortly.
There was a problem. Please refresh the page and try again.