Child Services Has Stepped In to Make Sure Rob Kardashian And Blac Chyna's Baby Is Safe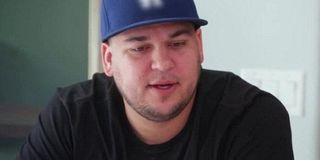 The drama between Rob Kardashian and Blac Chyna continues. Apparently, the Los Angeles County Department of Children and Family Services (DCFS) has intervened, presenting the reality television personalities' domestic drama to the Los Angeles County Dependency Court. Reportedly, DCFS hopes a judge can decide if one-year-old Dream Kardashian is safe.
There is no word regarding what specific evidence DCFS wants a judge to consider. TMZ hints a judge could look at the mix of issues that led up to Blac Chyna filing of a restraining order against Rob Kardashian this year. For example, evidence could include the fact Kardashian posted graphic images of Chyna online. Similarly, a judge could review Kardashian's accusations about Chyna's supposed drug use.
In fact, there are rumors DCFS has been trying to ascertain the safety of Dream Kardashian for quite a while. Supposedly, DCFS began digging into each of their personal lives even when Rob Kardashian and Blac Chyna were together.
Much of the drama unfolding between Rob Kardashian and Blac Chyna stems from their public social media feud. Months after the breakup, Kardashian blasted Chyna on social media and posted graphic photos of her, which she had privately shared with him. Chyna subsequently went to social media and accused Kardashian of becoming physically violent with her during their relationship. (Apparently, DCFS is taking this particular accusation seriously.)
After making the accusation, Blac Chyna linked up with celebrity attorney Lisa Bloom to file a restraining order against Rob Kardashian. Bloom has experience in crisis management and previously helped Kathy Griffin with her press-conference apology this year.
In response, Rob Kardashian retained the legal representation of Robert Shapiro, with whom his late father worked on the O.J. Simpson murder trial in 1994. Shapiro said Kardashian would not contest Blac Chyna's restraining order because he wanted to make sure Dream was all right.
Dream Kardashian is Rob Kardashian's only child and Blac Chyna's second. She also has a 4-year-old son, King Cairo Stevenson, with rapper Tyga. It is unclear what will happen to Dream Kardashian or her half-brother if the judge determines the environment is unfit for kids. But in August, Kardashian and Chyna were supposedly reaching a custody agreement. Still, who knows what a judge will do with the terms of such an arrangement if the final determination is the kids are unsafe?
Rob Kardashian and Blac Chyna stirred up controversy from the moment they hooked up. Kardashian's half-sister, Kylie Jenner, was dating Tyga when Kardashian and Chyna were together. However, Kardashian and Chyna burned hot and fast. They had their daughter and developed a short-lived reality television show, but the rocky romance ended after becoming turbulent last year. We'll have to stay tuned to see what happens next and what the judge decides about the safety of the little ones.
Your Daily Blend of Entertainment News
Your Daily Blend of Entertainment News
Thank you for signing up to CinemaBlend. You will receive a verification email shortly.
There was a problem. Please refresh the page and try again.