Watch Bill Nye The Science Guy Interrupt Bikini-Clad Girls On Snapchat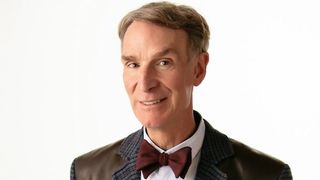 Recently, a group of bikini-clad young women was in for a big surprise while recording goofy videos and partying up a storm for social media. The five gal pals were shaking it like a salt shaker in what appeared to be a hotel elevator at a casino in Las Vegas, Nevada. Suddenly, the elevator doors opened, and lo and behold, on walked the one and only Bill Nye. Check out the funny moment:
Hilarious! In the video, you can hear a couple of the stunned young women catch their breath in a mix of embarrassment and awe. The video is seconds long, but you can get the sense the friends first felt a wave of mild mortification because somebody caught them getting buckwild in the elevator. Then that hint of humiliation immediately morphs into absolute amazement when the girls realize the person stepping onto the elevator is none other than Bill Nye. One friend covers her mouth in shock while another says,
Bill Nye's reaction was priceless. He appeared to realize the group of friends was partying. However, he casually got on the elevator anyway, pressed the button for his floor, and calmly said hi.
One of the five friends uploaded the video to Twitter. So far, it has more than 250,000 retweets and 750,000 likes. Some of the responses have been laugh-out-loud funny. For example, some commenters suggested Bill Nye appeared to be the one mortified over the inadvertent social media interaction. At the same time, some people picked on the girls for having too much fun, so Twitter users shut down the haters with tweets like:
The Twitter reply that stood out above the rest was one that added the theme song of Bill Nye The Science Guy to the elevator video. If you thought the original was funny, trust that you need to see this video, too:
These days, Bill Nye's brand of science is not just for 90s kids. He appeals to people of many niche markets, apparently including a young, twerk-savvy audience. In fact, Netflix recently renewed his show, Bill Nye Saves the World, which aims to keep Millennials informed about science. Here's hoping the science guy finds a way to bring these girls on for a funny sketch. Who knows? Maybe they could help Bill Nye explain what happens in the brain when we have a celebrity sighting, or how elevators work, or how many calories people burn when they twerk in videos for social media.
Your Daily Blend of Entertainment News
Your Daily Blend of Entertainment News
Thank you for signing up to CinemaBlend. You will receive a verification email shortly.
There was a problem. Please refresh the page and try again.