Hugh Hefner's Crypt Is Next Door To A Hollywood Legend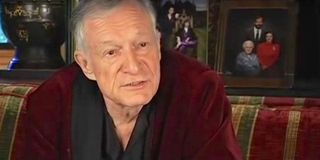 Hugh Hefner has passed away, and his family is putting his burial plans in motion. It turns out the multimillionaire founder of the Playboy empire had a symbolic surprise up the sleeve of his smoking jacket. Hefner's burial spot is in the crypt next to classic Hollywood actress and Playboy legend Marilyn Monroe. The tomb is in Los Angeles' Westwood Village Memorial Park, and Hefner purchased the spot for $75,000 in 1992. Regarding the decision, Hefner once told reporters,
Marilyn Monroe was the first woman to grace the cover of Playboy for its first issue in 1951. The issue sold more than 50,000 copies. At the price of $0.50, that first issue earned back the $9,000 or so that Hugh Hefner originally borrowed from investors and lenders to start the men's entertainment magazine.
The news Hugh Hefner's final resting spot is next to Marilyn Monroe's is splitting opinions. Some people say it shows Hefner cherished Monroe and felt gratitude toward her. Other people point out how Monroe reportedly felt humiliated after her Playboy issue hit newsstands. As the BBC explains, Monroe regretted the old photo shoot, and by the time it came to light, she worried it would derail her blossoming career in Tinseltown.
Marilyn Monroe took the nudes when she was first trying to get entertainment jobs after leaving her first husband, James Dougherty, and her small-town life as Norma Jeane Mortenson. She was desperate, so she reluctantly consented to do the photoshoot for a paltry $50. Hugh Hefner scored the pictures years later for $500 from a Chicago calendar company, and he promoted them as shots of Monroe with "nothing but the radio on." Later, in Marilyn: Her Life in Her Own Words, author George Barris revealed that Monroe said,
Regardless, Marilyn Monroe's Playboy cover remains iconic. Here is an image of the cover that started it all via a fan account on Twitter:
Hugh Hefner never met Marilyn Monroe in person. He once spoke to Monroe on the phone, and his brother was once in the same acting class as her in New York City. Still, Hefner often spoke highly of her and idolized her as a Hollywood icon.
Interestingly, Hugh Hefner was not the only person who tried to secure an up close and personal spot to enter the great beyond with Monroe. Joe DiMaggio, who was married to Marilyn Monroe between 1954 and 1955, once owned the crypt above hers. However, he got rid of it when he and Monroe divorced.
Marilyn Monroe died of a probable suicide from an overdose of barbiturates in 1962. Her story, including the Playboy element, is legendary. Of course, Hugh Hefner was a legend, too. It will certainly be a great talking point for anyone who does a tour of that cemetery.
Your Daily Blend of Entertainment News
Your Daily Blend of Entertainment News
Thank you for signing up to CinemaBlend. You will receive a verification email shortly.
There was a problem. Please refresh the page and try again.