Billie Lourd Paid Tribute To Mom Carrie Fisher On Her Birthday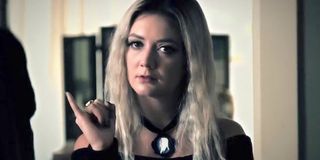 Billie Lourd is still bouncing back from losing her movie-star mom, Carrie Fisher, and her Hollywood-icon grandmother, Debbie Reynolds, a day apart from each other in December 2016. Since Fisher and Reynold's deaths, Lourd has been candid about the complexity and depth of her grief. Still, the 25-year-old American Horror Story: Cult actress has found ways to honor her late family members with lovely tributes. For example, Lourd recently marked what would have been Fisher's 61st birthday by posting a beautiful throwback photo on social media. Check it out:
What a charming scrapbook picture of Carrie Fisher and Billie Lourd in their matching pajamas. Fisher almost looks like a completely different person from her glamorous Star Wars persona, but she seems as happy as can be with her young daughter. Lourd must have been around six or seven years old in this picture, which she shared with the more than 900,000 followers she has on Instagram.
After posting the throwback photo, Billie Lourd also shared a gallery of two pictures to show off a new tattoo she got on her ankle. It resembles one her late mother had in the same spot. The ankle ink shows a scene of a galaxy. We can surmise Carrie Fisher probably got it because of her connection to the Star Wars franchise and her legendary role as Princess Leia. Fisher's galactic scene appeared to be a colorful freehand artwork, while Lourd's modern take on the scene was black-and-white and seemed to have computer-aided precision. Take a look:
Long before the birthday throwback photo and the ankle tattoo, Billie Lourd began paying tribute to her mom when she dressed up in a Princess Leia-inspired dress for a Star Wars convention this year. From the sounds of it, Lourd is still grappling with the grief, but she is finding new ways to manage the pain. For example, during an episode of The Ellen Show last month, Lourd told Ellen DeGeneres,
This sentiment mirrored aspects of what Billie Lourd told her AHS co-star, Sarah Paulson, who interviewed Lourd this year. In the talk, Lourd mentioned that she was facing a ton of emotions over the losses. She expressed gratitude for the support she received from her mother and grandmother over the years. Lourd also mentioned that coping with her mom's death was harder than Debbie Reynolds' death, though both losses were difficult. Hopefully, she continues to grow and find ways to feel gratitude for her lost loved ones.
Your Daily Blend of Entertainment News
Your Daily Blend of Entertainment News
Thank you for signing up to CinemaBlend. You will receive a verification email shortly.
There was a problem. Please refresh the page and try again.