The Incredible Amount Of Money Serena William's Honeymoon Cost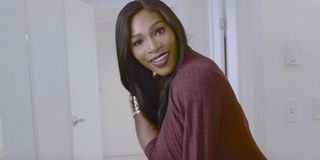 Professional tennis icon Serena Williams and Reddit co-founder Alexis Ohanian married in a lavish wedding in New Orleans on November 16. Afterward, the newlyweds and their two-month-old daughter, Alexis Olympia Ohanian, Jr., dashed off to a private island for a fantastic honeymoon in a 3,600-square-foot beachfront house with a gorgeous wraparound terrace and a one-of-a-kind view of the ocean. Apparently, the post-nuptials escapade came with the hefty price tag of around $35,000 per week!
While that cost sounds like a lot (and indeed is a lot) it might make sense this particular place would coss that much money. According to The Sun, the unique home that Serena Williams and Alexis Ohanian traveled to is located on the secluded Kamalame Cay in the Bahamas, and the only way to get there is to take a private boat or helicopter across the water. Check out Williams' jaw-dropping video of her stay:
To mere mortals like us, $35,000 per week might seem impossible, but both Serena Williams and Alexis Ohanian have reached the upper echelons of wealth in their respective fields and they perhaps could have tapped into their bank accounts to spring for the lavish retreat. However, from the looks of it, the honeymooners might have had some help financing the vacation thanks to Booking.com.
But it makes sense because Serena Williams is a sports legend, after all, and she does have more than 7 million followers on Instagram alone, so it is a win-win situation for everyone. Alexis Ohanian and Williams got a wonderful honeymoon, and now Booking.com gets to describe the location as "an intimate, family-run private island that afforded Serena Williams and Alexis Ohanian the privacy to ensure a memorable honeymoon." It definitely looks like a place that would be ideal for the peace of mind Ohanian and Williams most likely want right now with their little one.
Alexis Ohanian also took some time to post a social media photo of himself enjoying the wraparound terrace of the beachfront residence. In the caption, he added that he was having fun flying his Phantom drone around the island, which is how his new wife, Serena Williams, got that spectacular video. Take a look:
In fact, Serena Williams seems to have received similar perks from other companies in the past. For example, she gave a shout out to HomeAway on social media before her wedding, and she thanked the company for providing a beautiful mansion for her bridesmaids to stay in during the celebration in New Orleans. That particular estate apparently had a price tag near $2,000 per night, but again, it appears the company most likely fronted the bill.
Perhaps the moral of this story is that if you become a beloved, iconic sports star or the co-founder of an influential social media website, you might have companies banging down the door to pay for you to do stuff even though you are astronomically wealthy and probably could afford it yourself. Nicely played!
Your Daily Blend of Entertainment News
Your Daily Blend of Entertainment News
Thank you for signing up to CinemaBlend. You will receive a verification email shortly.
There was a problem. Please refresh the page and try again.