How Meghan Markle Will Spend The Holiday Season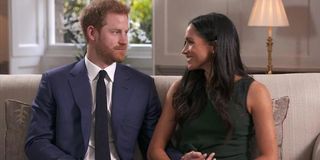 It appears Meghan Markle will have a holly, jolly Christmas with her future in-laws this year. The 36-year-old Suits actress supposedly plans to spend the holidays with Prince Harry and his royal family. Rumor has it the family will go to Queen Elizabeth II's estate Sandringham in Norfolk, per tradition. The estate is a couple of hours by car from London. There, Markle most likely will join Prince Harry's family for services at St. Mary Magdalene Church on Christmas Day.
The royal family's Christmas traditions sometimes include a gala lunch and a walk in the woods, so says CBS via AP. Experts predict the whole family will meet for the festivities. There might be chances to see everybody from Queen Elizabeth II and Prince Philip to Prince Charles and Camila, Duchess of Cornwall to Prince William and Kate Middleton in addition to Prince Harry and Meghan Markle. Even Prince George and Princess Charlotte should be there to discover gifts from Santa Claus.
Then again, some royal family members might drop out of the Christmas events at the last minute. After all, Queen Elizabeth II and Prince Philip sat out last year's celebrations because they had colds. Still, Buckingham Palace said the queen and other royals would be present for Christmas services at the above mentioned Sandringham church, where Princess Charlotte got christened.
Regardless, it will be fun to see Meghan Markle enjoying her first Christmas as (almost) part of the family. It's heartening to hear how well Markle fits in with her future fam. For example, when she and Prince Harry announced their engagement, all of the royals came out in support with kind words of congratulations. Kate Middleton even got stopped by the press and expressed lovely sentiments about her future sister-in-law.
In fact, People reports the royal family is keeping quiet about where exactly Prince Harry and Meghan Markle will stay at Sandringham, but Prince William and Kate Middleton may host them at Anmer Hall. This estate sits about two miles or so from the central Sandringham location, so it will be an excellent spot for the future in-laws to hang out.
Prince Harry and Meghan Markle announced their engagement but a couple of weeks ago, and they are still sorting out the details. Apparently, they plan to wed at St. George's Chapel at Windsor Castle sometime in May. Plus, the word is Prince Harry and Markle will televise their wedding like Prince William and Kate Middleton did in 2011. (Can't you just imagine the princes having a Christmas Day discussion about whose wedding ceremony will garner a bigger audience?) Here's hoping we get to see royal family Christmas photos with Markle in them this year.
Your Daily Blend of Entertainment News
Your Daily Blend of Entertainment News
Thank you for signing up to CinemaBlend. You will receive a verification email shortly.
There was a problem. Please refresh the page and try again.