Check Out The Royals' Adorable Christmas Card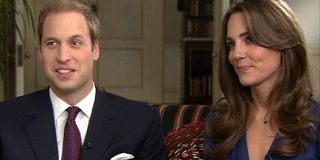 Prince William and Kate Middleton have unveiled their family holiday photo for 2017, and it appears the family is having a "blue" Christmas. The Duke and Duchess of Cambridge brought Prince George and Princess Catherine, and the foursome--which soon will become a fivesome--wore blue and posed in front of a neutral background. A tan backdrop for a Christmas photo might sound dull, but the family's joy fills the image with the holiday spirit:
While Kensington Palace tweeted the image, Chris Jackson, the photographer who shot the photo, also uploaded the picture to social media. In the caption for the Instagram photo, Jackson acknowledged how proud he felt that the Royals selected his picture to be their official Christmas image. He wrote:
Just think. This time next year, the family of four will be a family of five, as Prince William and Kate Middleton are expecting. Many commenters mentioned that point and talked about how joyful the family looks. One commenter wrote, "You captured their happiness." Another wrote, "All around goals." Some commenters asked about Kate Middleton's peplum dress and Princess Charlotte's little out, with some writing, "I really need to find out who makes that dress." Plus, some others commented on Prince George's amusingly chaotic socks.
Not everyone was a fan of the neutral background. But in recent years, the royal family has chosen similar photos for the holidays. In 2016 they used a candid shot that almost looked like a paparazzi photo, and in 2015 they took a family photo outdoors.
Soon, we might get to see more holiday photos when the royal family gathers at Sandringham estate for Christmas. This year, Prince Harry plans to bring Meghan Markle to join the festivities. Previously, Kensington Palace indicated everyone from Queen Elizabeth II and Prince Philip to Prince Charles and Camilla, Duchess of Cornwall would be there, too.
It should be heartening to see them together embracing Meghan Markle, especially because Prince Harry and Markle's wedding is several months away in May. In some situations, the royal family follows a "no ring, no bring" policy, so in a past era, Markle might not have been allowed to join because until after the wedding. But times have changed.
After all, look at the trail Prince William and Kate Middleton are blazing. This year alone, they worked with Prince Harry and Lady Gaga on the Heads Together campaign to help society overcome stigmas surrounding mental health issues. Through that campaign, Prince William spoke about the loss of his mother, Princess Diana, and Kate Middleton bravely talked about how motherhood sometimes can feel lonely.
Furthermore, Prince William and Kate Middleton recently took photographers and tabloid executives to court after they published inappropriate photos of the couple sunbathing in private. In the end, the Royals won, and the court gave the photographers and tabloid executives a hefty fine. It was yet another example of the new generation of Royals trying to make the world a better place.
The Duke and Duchess of Cambridge indeed have accomplished a lot this year. With this holiday photo, they have ended 2017 on a high note. Here's hoping we get more family photos (with Meghan Markle) when the whole family gathers for Christmas.
Your Daily Blend of Entertainment News
Thank you for signing up to CinemaBlend. You will receive a verification email shortly.
There was a problem. Please refresh the page and try again.