Andy Samberg Had A Crush On Joanna Newsom Before They Started Dating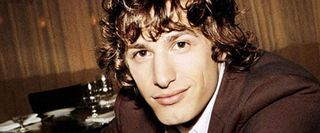 Andy Samberg and Joanna Newsom are tied with Jennifer Lopez and Casper Smart as the weirdest celebrity couple. The latter are pretty new to dating one another, so maybe we just haven't gotten used to them yet, but after knowing each other for over five years, Samberg and Newsom are starting to get that comfortable look in photographs reserved for the most lasting couples. As it turns out, the relationship between the former Saturday Night Live player and "The Book of Right-On" singer took a little work on Samberg's end to get going.
Before Samberg had even met Newsom, he totally had a crush on her. The crush was super cute; the comedian would often show up at her shows to hang out and listen. Despite the couple's apparent differences in musical styles—it's hard to even get tracks like "I'm on a Boat" into the same conversation as "Peach, Plum, Pear"—he was eventually able to meet her due to getting acquainted through mutual friends. According to US Weekly, five years later, they are still going strong.
Quiet evenings at home with hour-long harp-tuning sessions may not seem like the ideal date night to everyone, but for Samberg and Newsom, the relationship seems to be working just fine. Pop Blend would like to wish the happy couple the very best as they move forward into Samberg's retirement from SNL and, especially, digital shorts.
Your Daily Blend of Entertainment News
Thank you for signing up to CinemaBlend. You will receive a verification email shortly.
There was a problem. Please refresh the page and try again.