Australia Is Threatening To Execute Johnny Depp's Dogs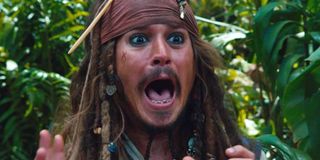 Hollywood stars are dead-center spotlight and with money and fame, it can be quite the nice life. But with that fame and attention, it becomes difficult to hide any skeletons in the closet. Or in this instance, it becomes difficult to hide your beloved dogs from Australian authorities. While filming in Australia for his latest Pirates of the Caribbean movie, Johnny Depp may have decided to bring his two Yorkshire terriers, Boo and Pistol along for his stay. But, it turns out that Depp did not take the appropriate steps to pronounce his dogs' arrival, and without participating in a particular process, the dogs could be put down.
The news comes via ABC, with footage of Johnny Depp's massive estate in Australia, along with the two Yorkies in the window. The Department of Agriculture in Australia is investigating the discovery of the two pups, who are believed to have been brought on Depp's private plane last month. The department adheres to strict rules and said that any animal imported without meeting Australia's import conditions would "be ordered into quarantine and would either be exported or destroyed."
Yesterday a notice was delivered to the residence with a three-day warning and earlier today Agriculture Minister Barnaby Joyce said that Depp had 50 hours to remove the dogs. He was not amused at the movie star's rule-breaking:
Basically what it comes down to is that Australia wants to protect its animals from any foreign diseases, even if it's something as basic as Rabies. But, within hours of Joyce's comments, Johnny Depp fans rallied with pleas to help save Boo and Pistol. There was even a Change.org petition that reached almost 1,000 signatures in two hours. But Joyce continued to stand by his argument that Depp should not receive any special treatment (even if he won't be invited to the new Pirates of the Caribbean premiere).
At the end of this mess though, the matter is still looked at as pretty serious and Depp could be facing large fines for breaching the quarantine procedures. Whether or not Depp knew about the proper screening process and chose to ignore it, remains unknown, but when you've got a private plane, it seems highly unlikely you would think about the commercial flight declaration rules.
Your Daily Blend of Entertainment News