Christian Louboutin And Disney Unveil Limited Edition Cinderella Slippers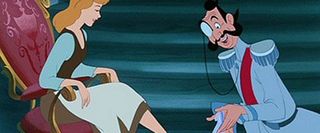 When many a girly girl was young, she walked around with fake pairs of Cinderella slippers (plastic, not glass) produced by none other than Disney. Over the years, the Mickey Mouse company has grown more savvy with their marketing to Disney princess lovers of all ages, even producing a line of wedding dresses made by Alfred Angelo and created to encourage brides to be the 'Belle' of the ball. Now, Disney is looking to get into high fashion to create some perfect Cinderella shoes to help lucky girls find their own Prince Charming.
Famous shoe designer Christian Louboutin worked with Disney for months to come up with a design for a shoe reminiscent of the glass slippers Cinderella wears in the famous animated flick. On Wednesday, Louboutin revealed his newest concoction, which was created with white lace, butterfly patterns, and sparkling crystals. According to CBS News the famous shoe designer was drawn to creating the shoes with Disney due to how important the slippers are to the Cinderella storyline.
Beware, however, even if you are willing to put a magic spell on someone or pay an arm and a leg for a pair of the crystal beauties, you most likely will not be getting your hands on a pair. Only 20 pairs of the Cinderella shoes will be produced in honor of the upcoming Cinderella Blu-Ray release. On top of this, the pairs will go to fans through a giveaway, with details coming out next month. So if you want a pair of the pretty heels, keep your eyes and ears peeled.
Your Daily Blend of Entertainment News
Your Daily Blend of Entertainment News
Thank you for signing up to CinemaBlend. You will receive a verification email shortly.
There was a problem. Please refresh the page and try again.