Claire Danes And Hugh Dancy Expecting First Baby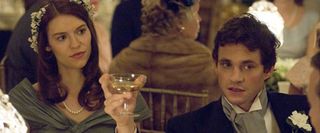 One of the biggest boons to taking on a subscription cable series is the relative amount of free time. While many network TV shows will run from September to May with a few short breaks, a season on a channel like HBO or Showtime will only run for 10 episodes or so. In the downtime following shooting, actors can take on multiple film roles, or take a lengthy vacation, among other things. For actress Claire Danes, the downtime after the first season of Homeland seemed to be the perfect time to begin a family.
According to THR, Claire Danes and her actor hubby Hugh Dancy are expecting their first child. The couple have been married since 2009 and currently reside in New York City. With Danes' Showtime schedule, having a baby in the coming months should work out perfectly, especially if Homeland is renewed for a third season.
Shooting for Season 2 of Homeland is currently underway, but with multiple sources reporting filming the series will not be impacted by the baby news, it's likely Danes is still in the early throes of pregnancy and will not be showing before filming ends. Homeland has a September 30 release date, and hopefully by that time, Pop Blend will have more news about the baby and most notably, its sex, to send in your direction. Either way, I'm guessing the couple will end up with a wee brunette.
Your Daily Blend of Entertainment News
Your Daily Blend of Entertainment News
Thank you for signing up to CinemaBlend. You will receive a verification email shortly.
There was a problem. Please refresh the page and try again.