Curtis Stone Proposes To Lindsay Price On Italian Balcony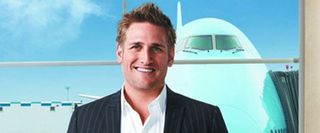 Curtis Stone has played his cards smarter than almost any other celebrity I have ever encountered. He took his minor celebrity chef status and parlayed that into a role on Celebrity Apprentice, then walked his Apprentice credentials over to Bravo where he judged Top Chef for a while before taking over as host of Around the World in 80 Plates. The man is so smart in his career choices, it is no surprise he has played his cards adeptly in his personal life, as well.
On Thursday, Stone's representative confirmed he and his long-term girlfriend Lindsay Price will be tying the knot, and in usual Stone style, his proposal plans worked perfectly. The star spoke with US Weekly on Thursday, stating he took a break from shooting Around the World in 80 Plates while the crew was filming in Italy and met Price in Positano. The proposal went down on a little balcony where Stone had privacy to ask his actress girlfriend on his knees.
Luckily, the mother of Stone's son, Hudson, agreed to the culinary host's proposal, leaving the 36-year-old the happiest man on the planet.
The couple have been dating for three years and with a baby in the picture, it is great to see they are extremely happy and willing to take another step to commit to their relationship. Pop Blend would like to wish the couple the best of luck in the future. We'll keep you posted on any lovely wedding plans that waft our way.
Your Daily Blend of Entertainment News