Cynthia Nixon Backtracks, Says Bisexuality Is Not A Choice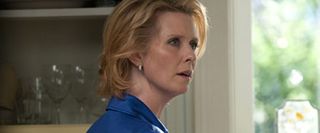 Sex and the City actress Cynthia Nixon has spent the last week backtracking after she mentioned her bisexuality was "a choice" when speaking to The New York Times Magazine. The 45 year-old actress as been in a relationship with Christine Marinoni since 2004, but was married prior to Danny Mozes, a man whom she had two children with. The comments sparked criticism from members and supporters of the gay community who have spent countless hours of their own time debunking just that notion.
So Nixon did a second interview, where she affirmed she did not enjoy thinking of herself as a bisexual. The interview, with The Daily Beast actually caught her saying "everyone likes to dump on bisexuals." It's like watching someone dig themselves a hole and being completely, utterly helpless to stop them. So, Nixon had some more backtracking to do.
On Monday, Nixon spoke out again to clear up any miscommunications she may have sent out into the universe.
Nixon also spoke out about her own story of being gay and about how she truly does believe she, and other members of her community "cannot and do not" choose the gender of those they fall in love with. It's a shame she had to so much backtracking, because it truly seems her whole ordeal has been one of explaining her own identity, but not doing it in a way that came across as politically correct. You can check out Nixon's complete statement over at The Advocate.
Your Daily Blend of Entertainment News
Thank you for signing up to CinemaBlend. You will receive a verification email shortly.
There was a problem. Please refresh the page and try again.