Damon Albarn Joins JJ DOOM On Latest Single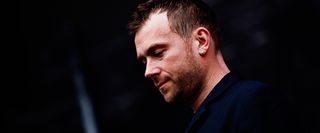 Music collaborations are definitely popular right now. The Flaming Lips releasing an album with help on every song, Kanye West and Jay-Z watching the throne, and many others prove to not only me, but audiences everywhere, that maybe auteurism in music is no longer a necessity. Add Damon Albarn, two of hip-hops finest rappers, and Beth Gibbons from Portishead together though, and collaborations will tend to prove fruitful. Their collaborative venture culminates in JJ DOOM's latest single "BANISHED."
The rap super group consists of Jneiro Jarel and MF DOOM. No wonder why "BANISHED" rocks. Courtesy of a tweet he made over the weekend, Jarel released the bumping track along with these comforting words: "Just did a song with Beth of Portishead and Damon Albarn! I figured I'll say it since it's already leaked in press!" Check out the new single from JJ DOOM off their upcoming album Key To The Kuffs, below.
Even though "BANISHED" doesn't feature vocals from Albarn, his mark on this song is obvious. The bumping bass, Gorillaz-esque psychedelia, and Beth Gibbons' mellotron style keyboards work together in sync with MF DOOM's vocal styling.
If you are upset about the "Feel Good Inc." hit-maker's lack of vocals, just know that his previous collaborations with multiple hip-hop artists in the Congo, and the funk recording he made with Flea, have all seen Albarn in the background. This collaborative effort wouldn't be possible though without its two larger than life figures, JJ DOOM. Jneiro Jarel's legendary songwriting and MF DOOM's instantly recognizable voice makes "BANISHED" an instant song to remember.
Your Daily Blend of Entertainment News
Thank you for signing up to CinemaBlend. You will receive a verification email shortly.
There was a problem. Please refresh the page and try again.