Disgraced Congressman Jesse Jackson Jr Sentenced To 30 Months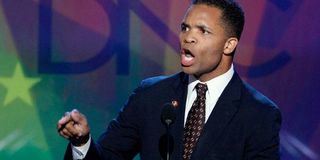 The line between what qualifies as a campaign expense and what qualifies as a personal expense is often very blurry for politicians. Sometimes dinners are strategy meetings, and sometimes they're just dinners. Sometimes campaign stops involve sightseeing and family trips intermixed with rallies and fundraisers. As such, judges are typically very lenient when it comes to examining a Congressman's expenditures. Unfortunately for Jesse Jackson Jr., however, buying flat screen televisions for your personal residence isn't even remotely acceptable.
This morning, the disgraced Congressman was sentenced to thirty months in jail for habitually using campaign money to finance an extravagant lifestyle. Alongside his campaign manager/ wife, Sandra Stevens Jackson, he made approximately 3100 personal inappropriate purchases over a seven year period. From fur wraps to a Disney World trip to a gold-plated Rolex watch, the couple spent more than $750,000 on themselves. The sentence could have actually been far worse, but thanks to full cooperation from the ex-politician and his wife, who got 12 months in prison, prosecutors did not ask for the maximum.
According to The Chicago Tribune, both prosecutors and the judge also decided to offer some leniency in terms of how the prison time will be served. Jesse will be allowed to report to prison first. Once his time is up, he will then switch places with his wife, which will allow one parent to be home with the couple's children as the family faces the fallout of their poor decisions.
Jackson's downfall began not long after President Barack Obama won his first term. As governor, Rod Blagojevich, who was later jailed too, was given the responsibility of filling the departing Senator's seat. Rather than select the most qualified candidate, he, in typical Illinois political fashion, decided to try and sell it. Representatives for Jackson were caught on tape offering more than $1,000,000. That trigged an investigation of the Congressman's finances, which eventually trigged an emotional breakdown and a bizarre leave of absence that seemed to go on fooooorrrreeeevvvveeerrr, which eventually triggered Jackson's resignation. Several residents reportedly sent in letters to the judge chronicling all the wonderful things he did for poor people while in office, but according to The Washington Post, a whole lot more sent in angry letters asking for an example to be set.
During today's sentencing, Jesse addressed the court and apologized for his mistakes. You can read an excerpt of his comments below…
Pop Blend's thoughts go out to the Jackson family children, as well as all those campaign donors who were duped into thinking they were helping a good cause when really they were only paying for vacations and luxury goods.
Enthusiastic about Clue, case-of-the-week mysteries, the NBA and cookies at Disney World. Less enthusiastic about the pricing structure of cable, loud noises and Tuesdays.
Your Daily Blend of Entertainment News
Thank you for signing up to CinemaBlend. You will receive a verification email shortly.
There was a problem. Please refresh the page and try again.