Eil Manning And The Giants May Have Sold Fake Memorabilia To Fans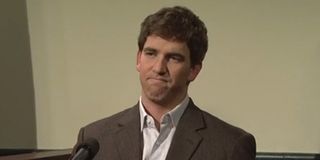 If you bought a piece of game-worn apparel from the New York Giants in the last decade, you may have been duped. According to the New York Post, a new lawsuit alleges that the team passed off fake jerseys, helmets and other memorabilia to fans. What's worse: one of these potential forgeries––the helmet Giants quarterback Eli Manning wore during the team's 2008 Super Bowl win––may now be on display at the Football Hall of Fame in Canton, OH.
The suit, brought by sports collector Eric Inselberg, lays out multiple instances of team employees purposefully damaging new equipment in order to make them look "used." One incident involved the team's dry cleaner, Barry Barone, who was instructed by locker room manager Ed Wagner Jr. "to intentionally damage multiple jerseys to make them appear...game-worn." You know you have a problem when you're getting your dry cleaner to do your dirty work.
Several of the forgeries also involve Manning. In 2005, the Super Bowl MVP supposedly asked equipment manager Joe Skiba for a beat-up game helmet, which Manning then signed and put on the market, stating it was used during his 2004 rookie season.
To add insult to injury, the suit also includes a damaging email exchange between team employees where they discuss the alleged fakes that were sold to fans. Speaking of which, has anyone checked on the Giants' fan who drank an entire bottle of lemon juice? I am not sure how he's taking the news.
For now, you can read the full lawsuit––while doing your best "Eli face"––below. Head over to the New York Post for more on the story.
The complaint against the New York Giants and Eli Manning (opens in new tab)
Your Daily Blend of Entertainment News