Employees Use Post-Its To Turn Boring Office Into Colorful Superhero Tribute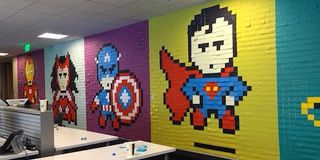 What do you get when you give a bored but inspired superhero-loving employee 8,024 post-it notes? Turns out nobody really knew the true answer to that question until weeks ago when office worker Ben Brucker decided to take on a very cool project, delivering some even cooler results in the form of this amazingly colorful superhero tribute.
Tired of looking at the sterile plain white walls of his office, Brucker (a writer on Reddit) decided to spruce things up a bit by covering them with simple yet totally awesome post-it renditions of his favorite superheroes. The results, as you can see, provided some much needed design that likely exceeded the expectations of each and every one of his co-workers, along with his boss who, according to this Reddit post, hooked Brucker up with the $300 needed to cover the costs of the materials. In the end, the large-scale superheroes came together almost looking like 8 or 16-bit video game renditions of The Avengers leader Captain America, Wonder Woman, Iron Man, Superman and the rest of the gang.
Lucky for Brucker, he had full support from his co-workers and his boss as he took to the difficult part of sticking each and every post-it note on the blank canvas of walls. While it took a number of weeks to plan and design the pixelated characters, in the end, the project came together spot on. I can also honestly say, it's nice to see both Marvel and DC represented and seemingly playing nicely together. It's not all that often we see Spider-Man hanging next to Batman.
For those wondering what'll happen when the post-it notes begin to lose their stickiness, Brucker says they made sure to get the "super sticky" kind and in keeping up appearances they've been replacing any falling notes with new ones stuck more effectively. In the end, though, the walls will inevitably go barren once again as Brucker's company moves into a new office a few months from now. Check out a time lapse video of Brucker and his team as they comicly conquer their corporate environment.
Brucker answered a whole host of questions in the above Reddit thread, explaining things like why they went with post-its versus double-sided tape and how he found the apparently highly-sought-after black post-it. All we can say in the end is, bravo, Mr. Brucker, bravo!
Your Daily Blend of Entertainment News
Your Daily Blend of Entertainment News
Thank you for signing up to CinemaBlend. You will receive a verification email shortly.
There was a problem. Please refresh the page and try again.