Even Short Bouts Of Exercise Can Have A Significant Impact On Weight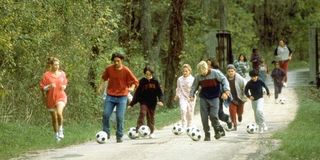 In the least surprising study results ever, researchers at the University of Utah found that every minute a person exercises--as long as it is moderate to vigorous physical activity—associates that person with a lower body mass index and less of a risk for obesity. What is a little surprising about the new study, however, is how little brisk exercise the individuals in the study needed to maintain their lower weight status.
We already know that most Americans don't get enough exercise, but just working out at a quick pace for a minute or so at a time can help people to maintain their weight and stay in shape more than the duration of the activity. Current guidelines call for at least 150 minutes, or 2.5 hours, of moderate to vigorous physical activity (MVPA) each week. MVPA can be studied using a machine called an accelerometer, which reads counts per minute. If a person is achieving at least 2,020 counts per minute, he or she is exercising at an MVPA pace. That's not as fast as fast as it might seem. A person walking briskly can achieve that count.
At the University of Utah, researchers took a look at various participants between 2003 and 2006, some of which were later excluded to wheelchair bound injuries and life events like pregnancies that drastically changed exercising habits. The final study looked at 2,202 women and 2,309 men, finding that people who obtained enough weekly MVPA, even in small doses, helped to keep their weight in check. So walking at a brisk pace or doing even more vigorous activity for periods of time that are as short as walking from a parking lot into a building to run errands really does matter.
The results indicated that when counting MVPA activities in bouts of 8-10 minutes, most of the men and women in the study did not even come close to the recommended 150 minutes of exercise suggested by the American guidelines. In shorter bouts, participants did come closer. This would mean little, however, if the short bouts didn't indicate any correlation between exercise and weight.
What the surveyors found was that every minute of moderate to vigorous physical activity was associated with a 5% lower risk of obesity in women and a 2% lower risk of obesity in men. Additionally, when counting the short bouts of MVPA, researchers found that the men and the women in the study did actually hit or get close to hitting their MVPA goals, with men doing about 246 minutes of MVPA per week and women hitting right around 144 minutes.
Anyone who has ever worked out with a trainer or taken an exercise class or undergone physical therapy or done a workout tape, etc. has probably been told to work in some more vigorous cardio among some of the lighter toning activities. However, the amount that even a small duration of vigorous activity can help a person to maintain weight is impressive and should give most of us a reason to park farther away from the mall in the future, at least.
Amazing Race & Top Chef superfan with a pinch of Disney fairy dust thrown in. If you've created a rom-com I've probably watched it.