Fiennes' Lazy Shaving Habit Saved His Lip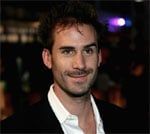 Actor Joseph Fiennes' lazy shaving habits helped paramedics save the actor's bottom lip after a surfing accident in Australia.
The Shakespeare In Love star got knocked out by his board and came to missing his lip. He says, "The only way they could put my lip that came off back together was because they saw where the stubble ended, so they knew where it could be sewn back on." (KL/WNVKIM/IG)
Copyright 2009 WENN
Your Daily Blend of Entertainment News
Thank you for signing up to CinemaBlend. You will receive a verification email shortly.
There was a problem. Please refresh the page and try again.