Fifty Shades Of Grey Helping To Increase Sales Of Sex Toys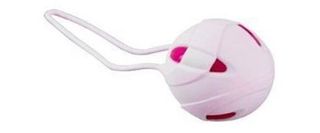 Fifty Shades of Grey has earned itself an obscene amount of press over the past several months, with younger and younger factions reading the S&M oriented story and some libraries even going so far as to ban the book due to content. Amidst all of this, the book has continued to find a place on bestseller lists, and now it is helping other industries out, as well.
Recently, a company called Fun Factory, which sells products to help couples to spice up their sex lives, contacted Fifty Shades series publisher Vintage Books, to inform them of some increased products sales. According to an exchange between Fun Factory and Vintage Books retrieved by TMZ, sales of vaginal exercise balls have increased by 300% over the last month, and you wouldn't believe who is buying them.
The products, known as "Smartballs," are actually used in E.L. James' bestselling book on sex slave Anastasia by her dominator Christian Grey. Technically, they're called Ben Wa balls in the text, but the "Smartballs" sold by the sex company are apparently an equivalent product. It's too bad James didn't put product placement spots into her bestselling novel. She's already making a fortune. But a fortune via vaginal products could be a far more humorous story to tell.