Former Child Star Danny Bonaduce Was Bitten On The Face By A Fan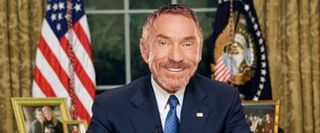 Former Partridge Family actor Danny Bonaduce still has a rabid fanbase. The radio host has recently been performing on the casino circuit in the northern part of Washington. On Friday, the man was at a meet-and-greet with some fans, when a woman asked for a peck on the cheek. The former child star agreed, and the woman proceeded to bite him on the face.
After the woman latched on, she didn't let go until other people surrounded the radio personality, pulling the woman off. At the time, the man continued the Casino-hosted event, but later that night, police came by to measure the intensity of the wound. For Bonaduce and his wife, however, the more pressing concern was the possibility of infection. The man is currently taking antibiotics after the injury.
According to The News Tribune, Bonaduce is staying mum about which Casino the bit occurred at. He also told the outlet he won't be pressing charges, despite being pretty pissed at the woman who caused him a pretty disgusting welt on his face. The man may not be causing his rabid fan a court date, but he didn't have particularly nice things to say about her either.
Bonaduce is known for going off the rails on occasion, and I'd say the woman is lucky she only had a torrent of insults thrown at her. However likeable or unlikable Bonaduce can be, he didn't deserve to get bitten on his face by a random stranger.
Your Daily Blend of Entertainment News
Thank you for signing up to CinemaBlend. You will receive a verification email shortly.
There was a problem. Please refresh the page and try again.