When Game Of Thrones Meets Taylor Swift, Hilarity Ensues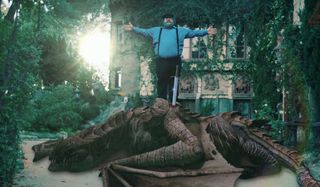 Two people that you would never imagine having anything in common just came together in an epic parody. Granted, Taylor Swift and George R.R. Martin still probably will never have a need to meet in real life, but this hysterical Game Of Thrones parody music video in the style of Taylor Swift's song "Blank Space" is the perfect mash-up. Take a look:
George R.R. Martin, portrayed by comedian Nick Mundy, focuses on the fan-favorite character, Daenerys Targaryen in the parody, and like everyone else's names he has written down on his "Blank Page", she is not safe from death. The Nerdist Presents music video it pretty brutal, staying true to some of the more common portrayals of the famed author and his sudden, unexpected ways of killing off popular, important characters. It also reminds us that the fate of Game of Thrones lies in the hands of a man, who with "so much death in the seven kingdoms you could say [he's] insane".
There have been plenty of Game of Thrones parodies, but this one definitely takes the cake. By working George R.R. Martin into the storyline, seeing Daenerys' discomfort as they picnic together, and seeing the author's just all-around excitement in his control over cutting off sword hands and killing those you love to save those you hate, it is a hilarious reminder that this world we've all become so obsessed with, is all in the mind of this one quirky man. We can beg and plead all we want to see the blond bombshell take over all of Westeros and sit on the Iron Throne, but at the end of the day, Martin determines it all, and he does so with an evil little smile on his face.
Nick Mundy, the comedian who stars in the parody, told THR about the process in crafting his version of Martin:
And that he is. While Martin continues to pen the novel series as fans worry that the TV series will too soon catch up to the books before Martin has completed the story, the author does not care. He takes his time on his universe as he sees fit, and assures fans that he will let them know when it is complete. But, for the sake of the show, and for the sake of superfans wanting to know what becomes of young Daenerys and where Jon Snow fits in with it all, we need that final book. We can only hope that The Winds of Winter will release in early 2016, just in time for season 6 of the show. But in the meantime, we'll have to make do with quality parodies like this one.
Your Daily Blend of Entertainment News