Game Of Thrones: Minor League Baseball Game Pits Lannisters Against Starks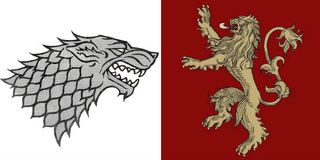 Game of Thrones is making headlines everywhere these days, and not just when it comes to the books or HBO series. Earlier this week we heard of a lawyer using what he learned in the show (you know that whole trial by death thing) in a real court of law. And now, it looks like sports are using the pop culture phenomena to their advantage. Over the weekend, minor league baseball team Staten Island Yankees changed their name to the Staten Island Direwolves for "Meet George R.R. Martin Night" complete with custom-made uniforms that pitted the Lannisters (Hudson Valley Renegades) against the Starks (Staten Island Direwolves).
The event was a fundraiser for New Mexico's Wild Spirit Wolf Sanctuary, an issue that Martin has previously been very vocal about. At one point a wolf even took center stage on the field. But according to the Staten Island Yankees Twitter page, the event brought in a record high attendance of 7,529 fans. Fans took the opportunity to come and meet the popular author, many even in Game of Thrones gear:
The event itself was an incredible success not only for the minor league baseball teams, but also the charity was given a surprise $10,000 check from the teams along with the profits from an auction of the custom jerseys. The first-come fans were given Direwolf swag along with autographs from the A Song of Ice and Fire author. It was a strange event, pairing baseball with Thrones which even Martin admitted to Rolling Stone, stating:
The cult status of Game of Thrones really has no limit to its fandom. Even NFL players have spoken out about how they hate spoilers from the show. Overall, Martin used his power for good though. And he looked like he had a fun time doing it.
For those of you itching for some new Game of Thrones Season 6 will premiere on HBO sometime in Spring 2016.
Your Daily Blend of Entertainment News
Your Daily Blend of Entertainment News
Thank you for signing up to CinemaBlend. You will receive a verification email shortly.
There was a problem. Please refresh the page and try again.