Gene Simmons' Home Was Searched By A Task Force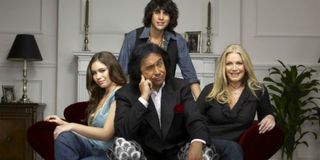 Yesterday afternoon, authorities were led to KISS co-founder Gene Simmons' house in an investigation of a crime that may have been committed on the property. Police have not released further comment on the activity, but the Internet Crimes against Children Task Force searched the premises. Neither the Gene Simmons: Family Jewels star or his family are considered to be suspects in the crime, and Simmons representatives have confirmed that when the crime was committed he was away on tour with KISS.
According to CBS Los Angeles, police have stressed that Simmons and family are not suspects and that the front-man for KISS has been completely cooperative in the investigation. The task force visited Simmons and his wife to discuss the crime that may have occurred on their property while he was on tour, and Shannon Simmons took to Twitter to share her overall disgust with the undisclosed situation:
Shannon Simmons also tweeted a follow-up reminding her fans not to forget to 'change your passwords'.
Authorities will not provide any more details on the case, and have prompted the Simmons family to do the same as this is an ongoing investigation. But their statement did confirm that no member of his family is a person of interest in the investigation.
Considering Shannon Simmons tweet, along with the involvement of Internet Crimes against Children Task Force, it seems safe to assume that this fits somewhere in the child pornography realm. An issue far too relevant currently, with Subway spokesperson recently sentenced for a number of crimes in the area. We're glad that the Simmons family is said to have no involvement, but how far this investigation leads, we'll just have to wait an see.
Your Daily Blend of Entertainment News
Thank you for signing up to CinemaBlend. You will receive a verification email shortly.
There was a problem. Please refresh the page and try again.