Google Launches Program To Teach Girls Coding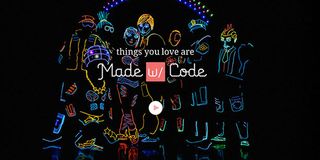 Tech jobs are probably some of the most interesting and the folks who work on and with computers blow my mind with their skills. My girlfriend went to college for both game design and computer repair, and she has even written and created some awesome programs. Unfortunately, she is in a minority in the tech world as girls just don't seem to be able to break into the field. One major company is hoping to change that in the near future.
According to Time, Google has launched an initiative aimed at teaching girls computer coding. The $50 million dollar program hopes to give young ladies the tools to get a job in technology in the future. The search engine giant announced not too long ago that only 17% of their employees are women. It's thought that by 2020, just six years from now, there will be a shortage of one million workers for computing. And unfortunately only 12% of all computer science degrees go to girls.
The program, named Made With Code, has a website where girls can log on and participate in coding projects. Coding is basically how you make a computer or program do what you want it to. The site also features inspirational stories from ladies already breaking ground in the technology field. Google VP Megan Smith stresses that coding will become critical in the future for just about everything and girls need skills to be competitive.
Google also put money into researching why girls don't pursue degrees in computer science in the first place. They learned that most young women decide before leaving high school whether or not they want a computer science degree .They learned that social encouragement plays a huge role in girls choosing degrees in computing. The Made With Code project gives ladies a place to not only learn but feel encouraged and supported to pursue their dreams and talents. I think a lot of the time girls feel scared that they can't do something that seems like it's for boys. With a little bit of encouragement the stigma might disappear and give more ladies a chance. The program also exposes them to things they may have once perceived as boring. Parents can also learn about programs in their area to give their daughters a chance to get even more exposure and build their abilities beyond the website.
The website also lets girls read about successful women in computer science and the tech world. Seeing women doing great things in a field that seems harder for women to break into is definitely a huge motivator. I wish there was a program like this when I was younger so I could have gotten into making games or even creating programs for computers. Hopefully this project and putting coding into classrooms can help girls get educated, have fun and get jobs. I would love to see more women rocking the technology industry and become great innovators. There's no limit to what a girl can do.
Your Daily Blend of Entertainment News