Hilary Duff Gets Excited About Changing Her Baby's Diapers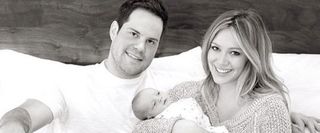 Hilary Duff's overwhelming positivity has served her well in the media, and now, as a new mother, she has been practically radiating over the past several months. Despite that, she still seems to have some radical mommy moments--which goes a ways to explain hiding her baby's umbilical cord in the makeup drawer—but the mom of three-month-old Luca does occasionally get super pumped about some extremely weird baby chores.
The first-time mom recently spoke with People to talk about some of her favorite chores as a parent. They generally include feeding and rocking, but Duff's new favorite activity is a very different sort. This is because Duff totally loves changing little Luca's diapers.
Despite some strange interests, the 24-year-old seems to have the mom thing down pat at this point, also noting she really enjoys having the capacity to understand what her kid needs when he gets into different crying bouts. Luca may only be three months old, but he's already getting into some basic shenanigans.
It's great that Duff gets the opportunity to spend all the time in the world that she can with her little tyke, and its also nice to see the new mom cherishing those moments and never taking them for granted. Pop Blend can't wait to hear from the lovely lady and her husband, hockey player Mike Comrie, in the future.
Your Daily Blend of Entertainment News
Thank you for signing up to CinemaBlend. You will receive a verification email shortly.
There was a problem. Please refresh the page and try again.