I Love Lucy Fans Are Not Happy With Frightening Statue Tribute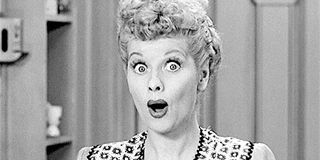 Turns out, contrary to popular opinion, not everyone loves Lucy... at least when it comes to the frightening statue of the legendary comedic actress Lucille Ball. The townsfolk where the statue was erected are so up in arms, they are attempting to get it taken down.
The residents of Celoron, NY (Lucille Ball's hometown) are reportedly working on a plan to bring down the bronze tribute to the late actress, due to the fact it looks nothing like her. Folks have even gone so far as to have created a Facebook group called "We Love Lucy! Get Rid of this Statue." That is apparently only the beginning, though, as they are now looking into fundraising options to help fix it or bring it down. Here's the Facebook post that started it all.
It may not be so easy to remedy, however, as the life-sized statue weighing in at around 400 pounds, which was privately commissioned by artist Dave Poulin back in 2009, would reportedly be very costly to fix. According to THR, the Facebook group's creator said he didn't want to "disparage the artist's entire body of work" but was adamant on his belief the statue was too scary to remain standing in their town, saying he'd much prefer it to look more like the statues Nick at Nite created for Bewitched, The Honeymooners and Bob Newhart.
Twitter users seem to agree, with many saying it looks nothing like the actress. Several users seem to think Poulin should never work again. One of the funnier responses, however, came in the voice of Lucy's husband Ricky from I Love Lucy:
According to Celoron mayor Scott Schrecengost, fixing the statue will run the town $5,000 at minimum—an estimate given by local sculptors in the region. Poulin said he'd fix it for $8,000-10,000 but that doesn't sit well with mayor Schrecengost, who says he'd like to see the artist repair it at no cost. Hence, users on Facebook suggesting the group look into GoFundMe and Kickstarter.
Your Daily Blend of Entertainment News
Your Daily Blend of Entertainment News
Thank you for signing up to CinemaBlend. You will receive a verification email shortly.
There was a problem. Please refresh the page and try again.