Kings Of Leon Drops New Single Supersoaker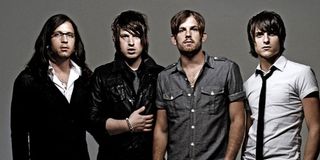 Kings of Leon has only sort-of bounced back from cancelling a slew of tour dates in 2011 and then announcing a hiatus, thanks to band member Caleb Followill allegedly dealing with alcohol issues. The band has made strides over the last several months, announcing via the Governers Ball and Late Night with Jimmy Fallon that the group's sixth studio album is on the way. The new LP will be called Mechanical Bull, and if you want to know what the new album is all about, you can grab some details and a listen below.
It is called "Supersoaker," and it's a catchy, fast-paced track that's perfect for summer days and nights. The title is a little nostalgic, reminiscent of the brightly colored Nerf guns that were first popular in the nineties. The sound of the track makes me a little nostalgic, too, reminding me of the harder, catchier music I used to listen to before the band got soft and produced such hits as "Use Somebody." Luckily, if you aren't a fan of the early era of the group's music, you should still be able to find something to like within "Supersoaker," even if it's just Followill's gruff voice.
Today isn't the very first time fans have been privy to "Supersoaker." The band played the track during the Governors Ball in New York earlier this year around the time Mechanical Bull was announced. It's nice to see the group starting to pick up where it left off after the now-infamous concert in 2011 in which Caleb Followill claimed he was overheated and needed to run backstage to drink a beer. He never returned to the stage, leading to plenty of in-fighting, a cancelled tour and their hiatus. Whatever problems plagued the group before, the best way to make a comeback is to produce new, good music and that seems to be the route Kings of Leon is hoping to take.
RCA Records has plans to put out Mechanical Bull this fall, with the album hitting the U.K. on September 23 and the U.S. a day later on September 24. The single is available via several different outlets, including iTunes and Amazon. Hopefully, an officially video for the track will follow sooner rather than later. Either way, we will be there every step of the way.
Your Daily Blend of Entertainment News
Thank you for signing up to CinemaBlend. You will receive a verification email shortly.
There was a problem. Please refresh the page and try again.