Legendary Groupie Pamela Des Barres Suing Over Botched Eye Procedure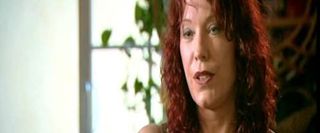 Life after being with the band can be a whole lot less glamorous. Pamela Des Barres has certainly learned this, as the ex-groupie and ex-lover of such musical juggernauts as Mick Jagger and Jim Morrison recently encountered a medical issue in the search for eternal youth.
The 63 year-old author of I'm With The Band has been having trouble with her eyes of late. The issue, unlike Judi Dench's recent eye problem, does not stem from natural deterioration, instead appearing because Des Barres underwent a botched cosmetic surgery procedure that, according to TMZ caused "burning and scarring" to the author's eyes.
Now, Des Barres has decided to sue the institution that hosted her messed up procedure. The former groupie has filed paperwork against American Medical Aesthetics and Wellness in L.A. In the documents, Des Barres is suing to cover the earnings she has not been able to make in recent days as well as for damages. The whole incident sounds pretty scarring, with Des Barres claiming negligence on the American Medical Aesthetics' part as well as claiming serious injury. With Des Barres' lawyer, James Wohl, stating the procedure actually burned Des Barres' corneas on both eyes, at this point, Pop Blend just hopes the incident was not too serious and the woman will be alright.
While no one deserves to be mistreated in a hospital center, regardless of whether the procedure is cosmetic or necessary, maybe the lesson to be learned here, is sometimes less surgery really is a whole lot more.
Your Daily Blend of Entertainment News
Your Daily Blend of Entertainment News
Thank you for signing up to CinemaBlend. You will receive a verification email shortly.
There was a problem. Please refresh the page and try again.