Life Tip: Don't Impersonate a Rock Star to Pay for Your Medical Bills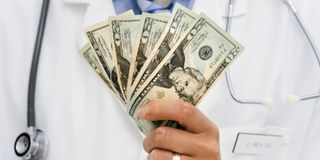 Today's lesson: If you rack up hundreds of thousands of dollars in medical bills, a rock star will not swoop in to save the day. Unfortunately, that didn't stop one ambitious man from trying.
According to KSL-TV, 54-year-old Phillip Michael Schaeffer has tried to pay off his exorbitant hospital care on numerous occasions by impersonating famous musicians.
It all began back in December, 2011, when Schaeffer, looking to settle a $23,328 bill at Dixie Regional Medical Center, said he was guitarist Alex Lifeson of Rush and that his agent would take care of everything. He left without paying. Schaeffer would return two more times––in 2012 and 2013––saying he was David Gilmour, former Pink Floyd guitarist, and that he was "insured by Lloyd's of London and his agent, Phil Michaels, would fax his insurance information to them."
Nice try, Phillip.
After the hospital alerted the police, the department discovered that Schaeffer had been arrested in Minnesota in 2013 for impersonating Gilmour at a hospital in Minnesota, where he racked up a $100,000 medical bill.
There was some discussion among security staff leading people to believe that he really wasn't David Gilmour," said hospital spokeswoman Jeanine Nistler. Well, he may look a bit like Gilmour, but the accent––Schaeffer is from Minnesota––had to have been a dead giveaway.
Schaeffer is currently incarcerated in New Mexico on unrelated charges. Until then, shine on, you crazy diamond.
Your Daily Blend of Entertainment News