Madonna Changes Song Title To Girl Gone Wild, Joe Francis Still Angry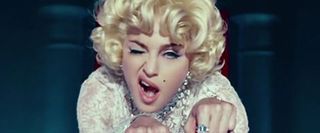 Joe Francis is still hot and bothered about Madonna titling a song off her upcoming album, MDNA, after his popular video series featuring scantily clad women. Earlier this month, Francis threatened to sue the iconic pop star over a title appearing on the latter half of her album called "Girls Gone Wild." Apparently, the man has the phrase trademarked and he is willing to go to the mattresses to fight for his beloved terminology.
Early on, some of Francis' demands were a bit comical, including his assertion that the singer had better not play her random b-side track at the Super Bowl. However, after claiming Madonna needed to work out a licensing agreement or go to court over it, the Material Girl did seem to take him at least a little seriously, and tweaked the name of her song a bit. Now, the song is titled "Girl Gone Wild," a change that seems to have riled up Francis even more, especially since Madonna's people are claiming the name change had nothing to do with Francis, according to TMZ.
The Girls Gone Wild head honcho is still considering suing Madonna over copyright infringement. If you look at the whole ordeal from his perspective, he sort of has to maintain his ground, now he has turned a minute issue into a huge ordeal over the past month. I'm just wondering why he didn't bother to push some buttons when Ludacris released a "Girls Gone Wild" single over five years ago?
Your Daily Blend of Entertainment News
Your Daily Blend of Entertainment News
Thank you for signing up to CinemaBlend. You will receive a verification email shortly.
There was a problem. Please refresh the page and try again.